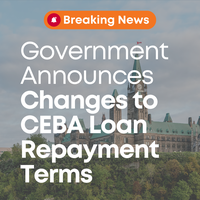 This afternoon, Prime Minister Justin Trudeau announced that the federal government is extending the full repayment deadline for the Canada Emergency Business Account (CEBA) loans by one year, from December 31, 2025 to December 31, 2026.
The zero-interest repayment deadline (which qualifies loan holders for partial loan forgiveness) is being extended from December 31, 2023 to January 18, 2024.
As of January 19, 2024, outstanding loans will convert to three-year term loans at 5% interest, with the full amount of the loan repayable by December 31, 2026. For more information, see here.
Debt relief has been a key priority for TIAO throughout our advocacy for pandemic recovery. Over the past 24 months, TIAO has raised concerns about the capacity for tourism businesses to pay back loans, with recommendations for debt relief featured heavily in our 2022 State of the Ontario Tourism Industry Report. TIAO is pleased that the repayment deadline for the overall CEBA loan has been extended but is disappointed at the lack of significant movement on the forgivable portion.
TIAO will fully review all details that have been released as part of today's announcement, liaise with members, and consider our next steps.
---