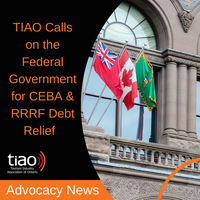 This week, in support of our CEBA and RRRF advocacy campaign, TIAO sent a letter to Prime Minister Trudeau calling for further CEBA and RRRF debt relief.
The Canada Emergency Business Account (CEBA) and the Regional Relief and Recovery Fund (RRRF) have both been crucial in supporting tourism businesses and organizations across Canada and in Ontario to mitigate the financial pressures caused by the COVID-19 pandemic. CEBA provided businesses and not-for-profits with interest-free loans, while the RRRF supported businesses that were ineligible for other federal supports or businesses already receiving COVID relief but required additional liquidity support.
In Ontario's tourism industry, as many as 8 in 10 tourism businesses have relied on CEBA and RRRF loans to keep their business afloat over the course of the pandemic. In our January 2022 survey, 7 in 10 tourism businesses reported that CEBA and RRRF loan relief would help their businesses not only survive 2022, but help them overcome fiscal challenges to aid in long-term recovery.
While we recognize that the Government of Canada has recently extended the interest-free repayment period for CEBA and RRRF loans to December 2023, this will not be enough given the staggering levels of debt accumulation in our industry and the slow pace of recovery as a result of the Omicron variant.
To help businesses more quickly hire staff, ramp up capacity, and rebuild, we are urging the federal government to consider increasing both CEBA's and the RRRF's maximum loan forgiveness amount by up to $10,000 if the balance of the loan is repaid by the end of the 0% interest-free grace period; and extending the interest-free repayment period for CEBA loans and RRRF loans to December 31, 2024.
Read the letter here
TIAO will continue to advocate for debt relief measures that support the recovery and rebuild of tourism operators across the province.
---