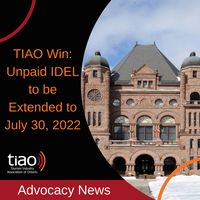 The Ministry of Labour, Training, and Skills Development (MLTSD) has confirmed that they will extend unpaid infectious disease emergency leave (IDEL) until July 30, 2022. Unpaid IDEL temporarily freezes layoffs to protect employees, allowing them to be reinstated, be free from penalty, and earn credits for length of employment and seniority; and protects businesses from the obligation to issue costly termination payouts once temporary layoff periods exceed the permitted length.
TIAO welcomes the announcement, which is in direct response to advocacy by TIAO and ORHMA on unpaid IDEL. On November 24, 2021, TIAO and ORHMA submitted a joint letter calling on MLTSD to extend unpaid IDEL for hard-hit tourism and hospitality sectors, as the current pace of business is not yet sufficient in all sectors to begin recalling laid off staff at the current timeline.
Today's announcement will help protect tourism and hospitality jobs and the financial solvency of our operators across Ontario.
For more information about unpaid IDEL, please consult government guidance.
---