Your weekly digest from TIAO, updating you on the latest industry news, advocacy issues and upcoming events.
Does this email not look right? Try viewing this email in a browser.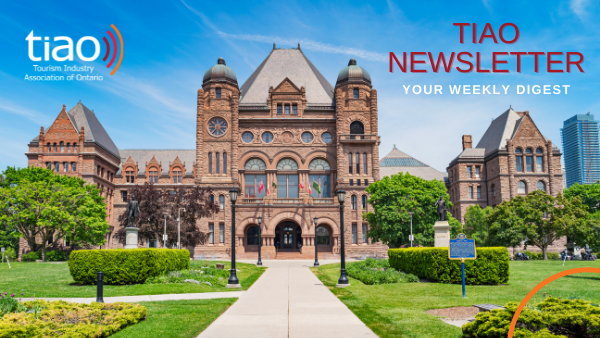 Follow us on our social media channels for news, industry briefs and information with a focus on validity and relevance to our industry. 
---
ADVOCACY AT BRIEF
This week, we saw an important step taken towards normalizing travel:
Earlier this week, the federal government announced it will drop the vaccine mandate for domestic and outbound travel, federally regulated transportation sectors, and federal government employees. As of June 20, vaccination will no longer be required to board a plane or train in Canada and employers in the federally regulated air, rail, and marine sectors will no longer be required to have mandatory vaccination policies in place for employees.  
As the pandemic has evolved and new tools have emerged to control the impact of COVID-19, TIAO has been advocating for government to remove barriers to travel. As such, we welcome this move and the opportunities it will provide the tourism industry and broader visitor economy: it will help increase provincial and inter-provincial travel, help address staffing challenges in federally regulated transportation sectors, and help streamline processes at our airports – resulting in a better customer experience.  
But while we are encouraged by the announcement, TIAO is still concerned about the unanswered questions of when unvaccinated travellers will be able to visit Canada and, crucially, when ArriveCAN will be eliminated or processes simplified and made more accessible for travellers. These are concerns we have been raising on TV and radio appearances this week, as we have been speaking to what the changes will mean for the tourism industry.
With cross-border land travel between the United States and Canada still at only 50.8% of normal travel volumes, border towns are bearing the brunt of the vaccine mandate for foreign nationals. Reliant on US clientele for upwards of 90% of their business, northern Ontario tourism operators are again seeing cancellations from US visitors due to the vaccine mandate - but also ArriveCAN requirements.  
The mandatory use of ArriveCAN is creating challenges for inbound foreign nationals, as well as Canadians returning from abroad. With ArriveCAN only allowing submissions up to 72 hours in advance of arriving in Canada, travellers on longer trips and without a smartphone are left with few options if they can't locate a business centre. As a result, seniors in particular have been impacted, with many deterred from travelling altogether. In other cases, it has meant added costs for businesses, with some tour operators resorting to purchasing printers to bring onboard the tour bus in order to print ArriveCAN receipts.   
And so, while this week's announcement was an important step for the tourism industry, there is still more that needs to be done. We need to remove the vaccine mandate for all travellers in all directions; and if ArriveCAN isn't to be eliminated entirely, we need to simplify the processes and remove the 72-hour window to submit the required information, making use of ArriveCAN easier and more accessible for more travellers. TIAO will continue working with federal counterparts to remove these remaining obstacles to travel – only then will the tourism industry and wider visitor economy truly be able to recover.  

Thank you for your continued support. And of course, if you have any questions or comments, please feel free to send us an email at cbloore@tiaontario.ca and jng@tiaontario.ca.

Chris Bloore
President & CEO               



Jessica Ng
Director, Policy & Government Affairs
---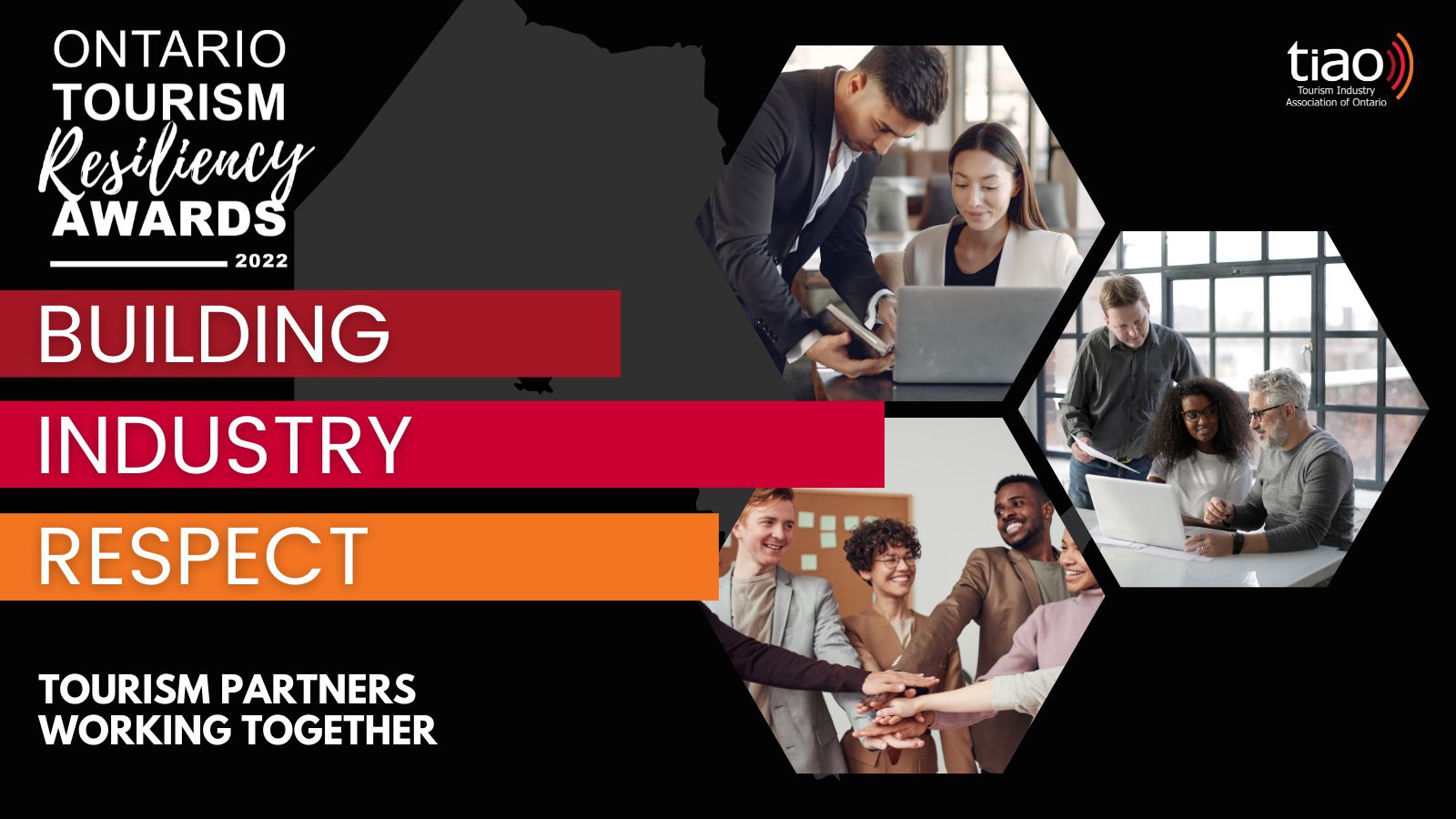 NOMINATIONS FOR 2022 ONTARIO TOURISM RESILIENCY AWARDS ARE OPEN!
2021 continued to be a year that challenged our industry, reinforcing our need for determination and perseverance. It just made sense for us to continue to recognize those that have shown resiliency, gained inspiration from others and look towards rebuilding with the Ontario Tourism Resiliency Awards.
Click the here to learn more and begin the nomination process!
---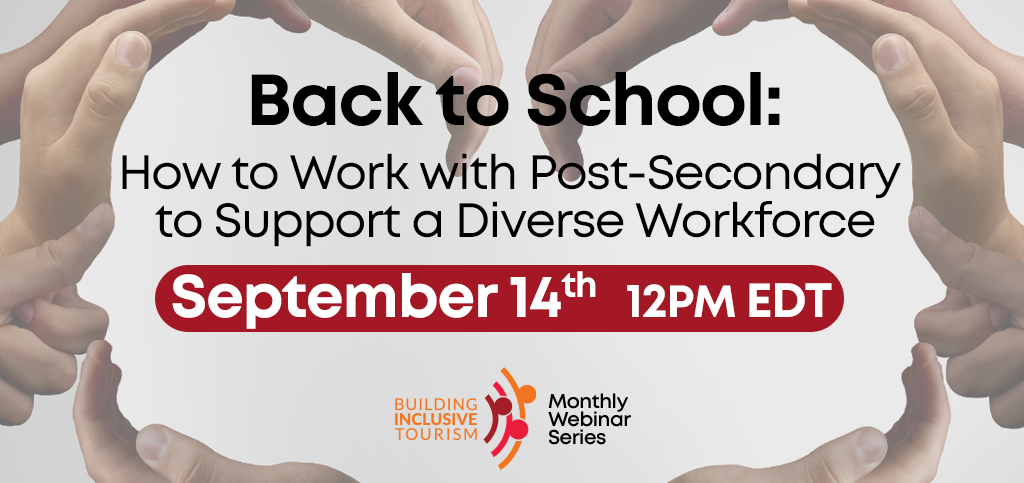 TIAO's next Building Inclusive Tourism Webinar session is on September 14, as Michelle Caine, Chair of Hospitality Management in the School of Hospitality, Tourism and Culinary Arts at Centennial College, moderates a discussion with a panel of experts to discuss how one can work with Ontario post-secondary educators to hire and mentor the growing number of international students studying tourism programs.  
This week, TIAO's Building Inclusive Tourism Webinar Series, curated by TIAO's DEI working committee was featured in an article by Cassandra Szklarski in the Canadian Press about inclusivity in the tourism industry and emerging trends during the pandemic.  
To register for upcoming webinars or to view recordings from previous sessions please visit our website here.
---
EARLY BIRD TICKETS ARE NOW ON SALE
FOR ONTARIO TOURISM SUMMIT 2022!
                                        

Join us for the tourism industry event of the year—because tourism counts.

Gather with industry colleagues and tourism leaders for two days at Deerhurst Resort to network, gain new insights, explore trending topics
and celebrate excellence at the
Ontario Tourism Awards of Excellence Gala.
Click here to purchase your early bird tickets for OTS22!
---
NEED EMPLOYEES
FOR YOUR BUSINESS?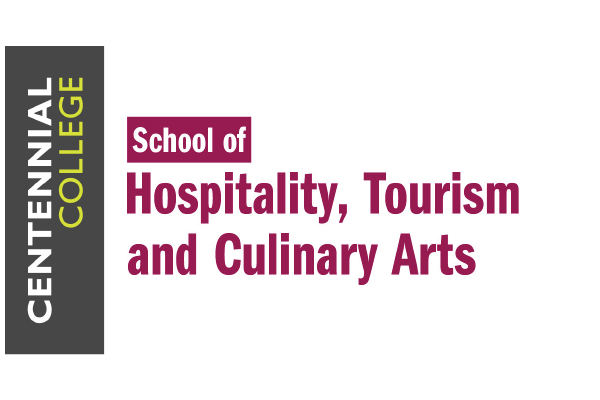 Centennial College School of Hospitality, Tourism and Culinary Arts has students (your future workforce!) who are seeking industry linked challenges including part-time work while studying, full time summer employment while studying and full semester (14 week 336 to 448 hours) Work Integrated Learning (working in a supportive environment with a real-world industry partner paid or unpaid) as a capstone to their 2 or 3 years of learning.
Areas of focus include Tourism, Hospitality, Events, Culinary and Baking.
For more information on how to work together with Centennial College, please email mhapak@my.centennialcollege.ca.
---
SURVEY: TOURISM GROWTH STRATEGY
- PRIORITIES FOR TOURISM OPERATORS
In its recent Budget, the Federal Government stated that "to continue supporting Canada's tourism sector, the Minister of Tourism will work with the tourism industry, provincial and territorial counterparts, and Indigenous tourism operators to develop a new post-pandemic Federal Tourism Growth Strategy, which will plot a course for growth, investment, and stability."
 
Government has initiated national consultations. TIAC will be actively participating in these consultations, including drafting a detailed submission that reflects the tourism industry's priorities for moving towards growth, investment, and stability. To assist TIAC in this regard, please click here to complete the survey.
---
JOIN TIAO IN TAKING THE PLEDGE
- AND ENSURE THAT ONTARIO IS THE MOST COMMITTED PROVINCE TO
SUSTAINABLE TOURISM
Are you interested and committed to being more sustainable? Are you curious, but don't know where to start. Start your 2022 by taking the pledge.
The Sustainable Tourism 2030 Pledge is a commitment to improve the sustainability performance of your tourism business or destination between now and 2030... but this is more than a pledge.
Launched in June 2021, the Sustainable Tourism 2030 Pledge is a global movement of individuals, businesses, and organizations within the tourism and hospitality industry that believe tourism has a tremendous opportunity to become a force for good and change the world. We believe that improving the social, cultural, environmental, and economic performance of our industry in support of the UN Sustainable Development Goals and UN 2030 Agenda for Sustainable Development is not a trend or a cause, but is essential to the long term health and well-being of this important sector of the global economy. The Sustainable Tourism 2030 Pledge is built upon the GreenStep Sustainable Tourism criteria, which is aligned with, and in the case of the business criteria, has achieved "Recognized" status, with the Global Sustainable Tourism Council. We have set a goal of achieving this. 
Take the pledge here: https://www.sustainabletourism2030.com/pledge/
---

TOURISM & HOSPITALITY EMERGENCY RECOVERY
(THER)
As businesses and operators prepare for a strong summer season, workforce recovery remains a challenge. Access tools and strategies specific to your region, including readiness assessments, real-time data, and workshops for businesses. Learn more at LetsGetReady.ca
Vous vous préparez pour la saison printemps-été? Les renseignements sur le marché du travail local et des données sur les prévisions économiques doivent être fournis aux destinations en temps réel pour les aider à prendre des décisions. Pour en savoir plus sur la manière dont l'OTEC et ses partenaires appuient la relance selon les destinations, visitez onseprepare.ca
---
STAKEHOLDER
CALL MINUTES
Thank you to everyone who joined this week's Forward Motion webinar and the stakeholder update session. 

You can read the notes from this week here.
---


SAFE TRAVELS STAMP
ADMINISTERED BY TIAO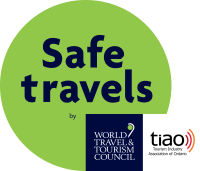 TIAO has been chosen by the World Travel and Tourism Council (WTTC) to administer the Safe Travels Stamp in Canada. The Safe Travels Stamp is an international symbol designed to allow travellers to recognize governments and companies around the world, which have adopted health and hygiene standardized protocols  – so consumers can experience 'Safe Travels'.
As we are being asked to limit our travel, recognize that the Safe Travels Stamp contributes to comfort with consumer sentiment both from travelers to your area and for your local community. This recognition can lend itself to peace of mind.
Our application process has moved to an online system and you can access it here. Almost 2000 businesses have been approved. See list of successful applicants here.
---
DO YOU HAVE
YOUR TIAO PROUD MEMBER LOGO?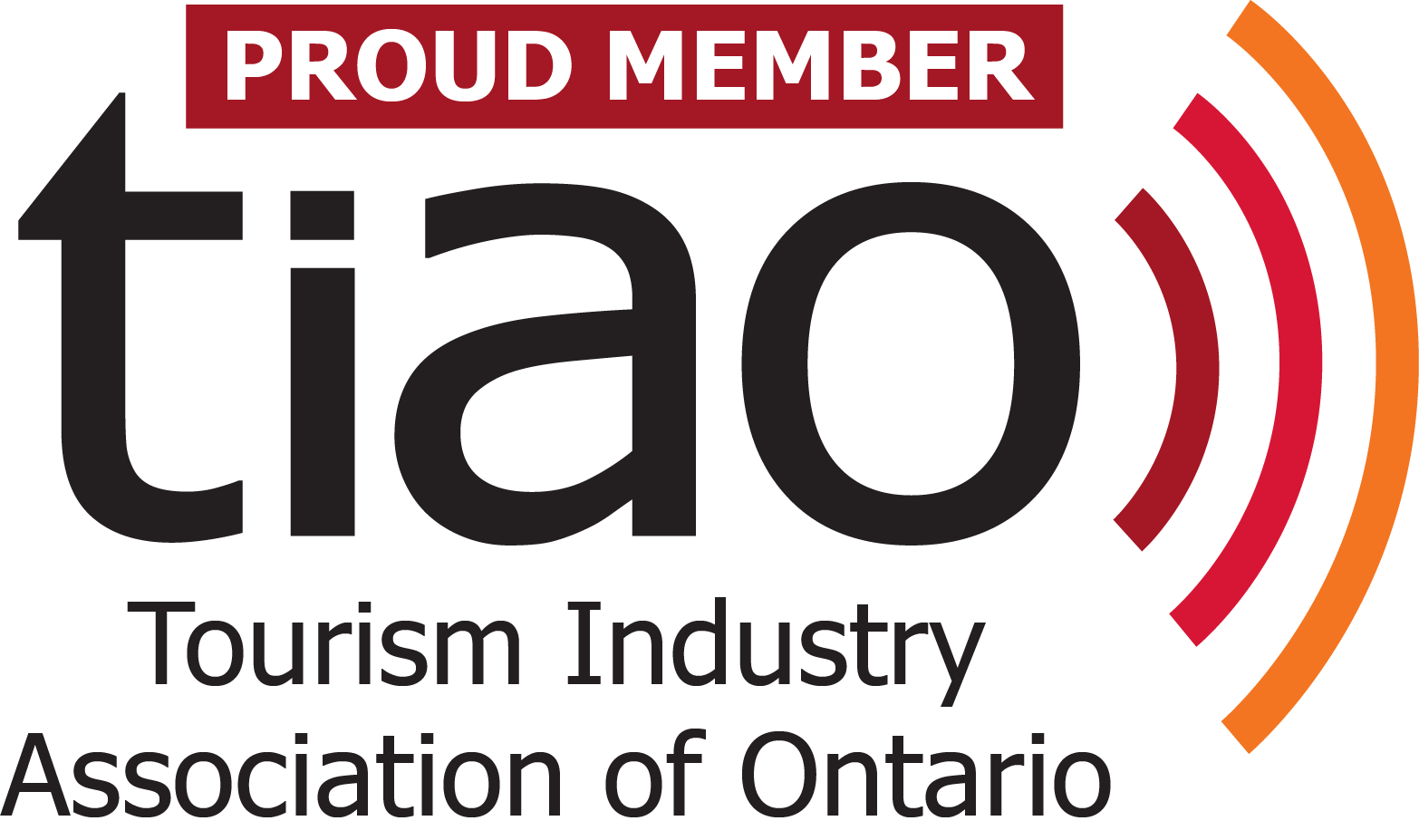 We value our members and are proud to show you off, which is why we have
a special TIAO "Proud Member" logo for your use. If you are a member
and don't have the updated version, please reach out here.
 
MEMBERSHIP IN 2022
– IS IT COMPLIMENTARY?
In 2020, thanks to a grant provided by the Ministry of Heritage, Sport, Tourism and Culture Industry, we had the opportunity to be able to extend complimentary membership for one year.  TIAO then chose to extend this again in 2021 recognizing the continued struggle.  We need to move forward and rebuild but we know that Re-opening does not mean recovery. 
In yet another transition year - we need to charge for membership - but we are keeping our rates level and asking the RTOs, DMOs, Sector Associations, Government, Tourism Industry Suppliers and Educators to pay - as we work with you to cascade up and down the information so that we can continue to collaborate and work together to deliver the voice to industry.
We are offering complimentary membership to tourism operators IF the tourism operator is a member of their local DMO and/or Sector Association.  We recognize that tourism operators are still challenged. By aligning with the DMOs/Sector Associations we are allowing tourism operators to not have to choose IF they can only afford one membership - we want them to work with those that can market and bring them business.  
For those tourism operators that are able to and want to contribute to green shoots to support TIAO's advocacy efforts, this is greatly appreciated.
We look forward to hearing from you, having more input, strengthening our industry's voices and making sure tourism is represented.
Contact us for 2022 membership by emailing us directly at

membership@tiaontario.ca
If you are a tourism operator that would like to contribute more than your membership dollars to TIAO to support our advocacy efforts, you can do so in one of two methods:
Sponsorship of an existing action - Tourism Issues Forum, Policy Speaker Series, AGM, and/or Ontario Tourism Summit

Become a

Green shoots

sponsor 🌱 - For those members that can afford to pay more than their membership, we will recognize the value of their existing membership through sponsorship (Green shoots sponsor) and use this value of their membership to continue the research and vital actions to rebuild and represent the industry's voice to government in Ontario.
How does this work if I want to become a member of TIAO?
Welcome, we are glad to extend this to the industry. We ask that you reach out to us directly at: membership@tiaontario.ca We will set up your membership. We will also extend to you the option as we do to our existing members.
Membership within TIAO for a period of one year from date of signing.

Opportunity to sponsor an existing action - Tourism Issues Forum, Policy Speaker Series, AGM, and/or Ontario Tourism Summit AND/OR become a

Green shoots

sponsor 🌱 - For those members that can afford to pay more than their membership, we will recognize the value of their existing membership through sponsorship (Green shoots sponsor) and use this value of their membership to continue the research and vital actions to rebuild and represent the industry's voice to government in Ontario.

Why Green shoots? 
Green shoots is a term used to describe signs of economic recovery or positive data during an economic downturn. The term green shoots is a reference to plant growth and recovery and has been used during down economies to describe signs of similar growth.
Welcome to the Tourism Industry Association of Ontario. 
We are your association, and we are here for you!
---
GOVERNMENT RELEASES
Government of Canada supports Ottawa Bluesfest and tourism industry
Federal Economic Development Agency for Southern Ontario

Today, the Honourable Helena Jaczek, Minister responsible for the Federal Economic Development Agency for Southern Ontario (FedDev Ontario), announced over $10 million to support Ottawa Bluesfest and three Ottawa-based tourism operators. Ottawa Bluesfest will receive an investment of over $9.8 million through the Major Festivals and Events Support Initiative (MFESI) to help the festival return to its pre-pandemic scale, as well as support the expansion of the mainstage area and the purchase of a new portable stage, to expand and increase capacity for its highest-profile shows.
---
NEWS
Scroll down to check out news articles in each of these sections:
BUSINESS DEVELOPMENT

COVID-19 IMPACT

FESTIVALS & EVENTS

FUNDING & GRANTS

LEADERSHIP

TRANSPORTATION

OTHER
---
BUSINESS DEVELOPMENT
Toronto selected as host city for 2026 FIFA Men's World Cup
CP24
One of the biggest sporting events on the planet is coming to Toronto. FIFA has announced that the city has been chosen as one of 16 sites for the 2026 World Cup, bringing an end to a months-long process that saw officials pay visits to 22 different candidate cities. Vancouver was the only other Canadian city chosen to host games. Edmonton, which was included on the short list of potential host sites, didn't make the cut.
Interest in ecotourism spiking in Sault Ste. Marie
CTV Northern Ontario
With tourism picking up in and around Sault Ste. Marie, officials are specifically marketing the local eco-tourism industry.
CEDC seeks public feedback on strategic plan
Northern Ontario Business
The agency focused on stimulating economic development in the city of Thunder Bay is looking for feedback from the public on its upcoming strategy plan.
---
COVID-19 IMPACT
Canada's Covid-19 Travel Rules Are Changing This Weekend — Here's Why Americans May Be Disappointed
Forbes
"Despite this month's increase in U.S. residents taking trips into Canada through land ports, the number of trips remains at half (50.8%) of the U.S. residents who arrived by automobile during the same month in 2019," the Tourism Industry Association of Ontario (TIAO) said in a statement.
Border mayors call on federal government to scrap the ArriveCAN app
CBC
A group of mayors and businesses in communities along the Canada-U.S. border is calling on the federal government to end the ArriveCAN app, saying it is discouraging Americans from visiting and shopping in Canada.
---
FESTIVALS & EVENTS
Thunder Bay is hosting the 2022 Canadian National Martial Arts Championships & Festival
Lake Superior News
Thunder Bay is hosting the Tbaytel 2022 Canadian National Martial Arts Championships & Festival for the first time ever. Excitement around the city is starting to grow, and because the event will attract national attention, it aims to help grow the martial arts locally.
---
LEADERSHIP
Tourism and travel industry pushed to embrace diversity and inclusion measures
Toronto Star
Interest in diversity, equity and inclusion initiatives has exploded over the past year or so among operators keen to repair relationships and expand their reach, says the head of the Tourism Industry Association of Ontario, which launched monthly webinars in January for those eager to better welcome visitors who are Black, Indigenous and other people of colour.
---
TRANSPORTATION
Peddling her wares: Transportation Options' Mursell talks bike month
Lanark Leeds Today
Louisa Mursell of Transportation Options, a group promoting ideas and innovations for sustainable travel and tourism solutions in Ontario, tells the bicycle friendly designation is meant to get people active.
---
OTHER
Record gas prices making travel and tourism 'very unaffordable' in Ontario, experts warn
CBC
As gas prices reach record highs, those who work in tourism and hospitality say it will force people to make difficult decisions on where they travel this summer.
June 18, 2022 - Fire Over Water Exhibit

June 18 - 19, 2022 - Indigenous Arts Festival

June 21, 2022 - Summer Solistice Indigenous Festival

June 21, 2022 - Tkaronto Music Festival

June 21, 2022 - Gifts From the Creator: The Ukwehuwe Connection

June 22, 2022 - RTO12 Regional Tourism Summit at The Kee

June 23, 2022 - Science North Blue Coat Box

June 23, 2022 - Destination Canada's Annual Public Meeting

June 23, 2022 Destination Ontario Presents: 2022 Travel Intentions & Motivators Research 
Session 2: Canada: BC, Alberta, Manitoba, Quebec, Maritimes

June 23, 2022 Destination Toronto Presents: Beyond the Land Acknowledgement

June 25, 2022 - Indigenous People's Day Celebration

June 27, 2022 - Feast On The Farm

June 29, 2022 Destination Ontario Presents: 2022 Travel Intentions & Motivators Research
Session 3: U.S.: California, Michigan, New Jersey, New York, Ohio, Pennsylvania, Illinois

June 30, 2022 - Indigenous History Speaker Series: Preserving Indigenous Culture in the Community

July 1, 2022 Canada Day - Shows, Activities and Fireworks

July 19 - 21, 2022 Destinations International: Annual Convention
TIAO members can use the code 22ACTIAO

September 14, 2022 TIAO Presents: How to Work with Post-Secondary to Support a Diverse Workforce (Building Inclusive Tourism Webinar Series)

October 25 - 26, 2022 Ontario Tourism Summit hosted by TIAO

November 2 - 4, 2022 Sport Events Congress 2022

October 24 - 25, 2023 Ontario Tourism Summit hosted by TIAO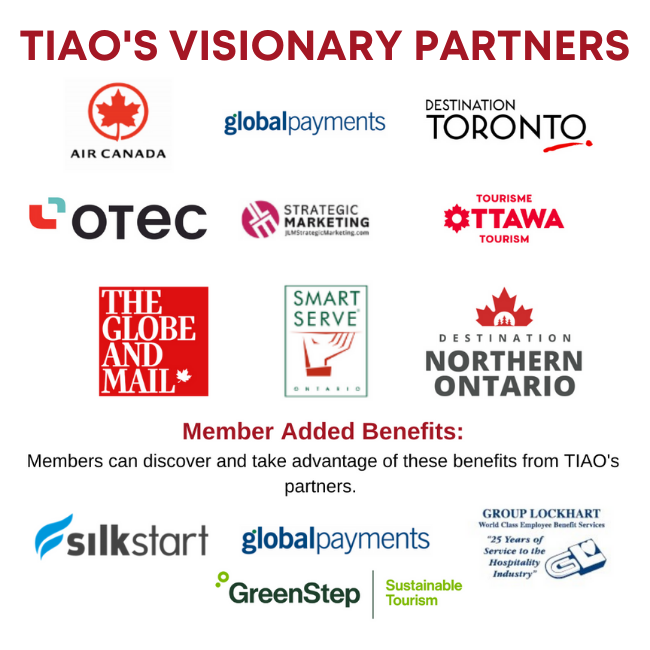 Copyright © 2022

Tourism Industry Association of Ontario

, All rights reserved.
 

This email was sent by:
Tourism Industry Association of Ontario
207 Queens Quay West, Suite 405, Toronto, ON M5J 1A7

 

You have received this email because you are a member or existing contact of Tourism Industry Association of Ontario, a membership organization powered by SilkStart. update notification preferences unsubscribe from this list