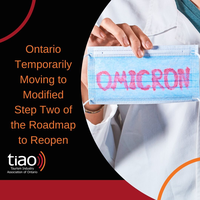 Good afternoon,
I had planned my first communication of the new year to be one of optimism and forward-looking. However, the speed in which the Omicron variant has ripped through our province and the rest of Canada means that my first correspondence of 2022 is to detail the provincial government's most recent announcements on restrictions and increased support mechanisms for affected businesses.
This morning, Premier Ford announced that the provincial government, in response to a steep increase in COVID-19 hospitalizations figures, would be temporarily moving Ontario into a Modified Step Two of the Roadmap to Reopen. Beginning Wednesday January 5 at 12:01am for at least 21 days, subject to trends in public health and health system indicators. The government will implement the following measures:
Reducing social gathering limits to five people indoors and 10 people outdoors.

Limiting capacity at organized public events to five people indoors.

Requiring businesses and organizations to ensure employees work remotely unless the nature of their work requires them to be on-site.

Limiting capacity at indoor weddings, funerals, and religious services, rites and ceremonies to 50 per cent capacity of the particular room. Outdoor services are limited to the number of people that can maintain 2 metres of physical distance. Social gatherings associated with these services must adhere to the social gathering limits.

Retail settings, including shopping malls, permitted at 50 per cent capacity. For shopping malls physical distancing will be required in line-ups, loitering will not be permitted and food courts will be required to close.

Personal care services permitted at 50 per cent capacity and other restrictions. Saunas, steam rooms, and oxygen bars closed.

Closing indoor meeting and event spaces with limited exceptions but permitting outdoor spaces to remain open with restrictions.

Public libraries limited to 50 per cent capacity.

Closing indoor dining at restaurants, bars and other food or drink establishments. Outdoor dining with restrictions, takeout, drive through and delivery is permitted.

Restricting the sale of alcohol after 10 p.m. and the consumption of alcohol on-premise in businesses or settings after 11 p.m. with delivery and takeout, grocery/convenience stores and other liquor stores exempted.

Closing indoor concert venues, theatres, cinemas, rehearsals and recorded performances permitted with restrictions.

Closing museums, galleries, zoos, science centres, landmarks, historic sites, botanical gardens and similar attractions, amusement parks and waterparks, tour and guide services and fairs, rural exhibitions, and festivals. Outdoor establishments permitted to open with restrictions and with spectator occupancy, where applicable, limited to 50 per cent capacity.

Closing indoor horse racing tracks, car racing tracks and other similar venues. Outdoor establishments permitted to open with restrictions and with spectator occupancy limited to 50 per cent capacity. Boat tours permitted at 50 per cent capacity.

Closing indoor sport and recreational fitness facilities including gyms, except for athletes training for the Olympics and Paralympics and select professional and elite amateur sport leagues. Outdoor facilities are permitted to operate but with the number of spectators not to exceed 50 per cent occupancy and other requirements.
You can read the full government release here.
On December 22, we shared with you information on new Federal and Provincial government supports designed to support hardest-hit sectors and those subject to continuing restrictions. You can view that information here.
However, in lieu of the most recent provincial restrictions, the Ontario government has announced that one of the new programs announced on December 22, the Ontario Business Costs Rebate Program (OBCRP), will be expanded. The OBCRP program will support eligible businesses that are required to close or reduce capacity due to recently announced public health measures. Eligible businesses will receive rebate payments for a portion of the property tax and energy costs they incur while subject to capacity limits.
The rebate amount will be 50 percent up to 100 percent of these costs depending on the degree to which the business is subject to public health restrictions. Eligible businesses required to reduce capacity to 50 per cent, such as smaller retail stores, will receive a rebate payment equivalent to 50 percent of their property tax and energy costs. Eligible businesses required to close for indoor activities, such as restaurants and gyms, will receive a rebate payment equivalent to 100 percent of their costs. TIAO welcomes OBCRP and hopes the government will release information imminently on how businesses can apply. We will of course share that information with you as soon as possible
There can be no doubt that today has been another excruciatingly painful day for our industry. I know how hard you have all worked to make your venues and businesses safe for your patrons, the health data reflects that our industry has been hugely successful in reducing transmission and that makes today's announcements even more frustrating.
In my view, twenty-one months into this pandemic, this is the most dangerous time for our industry as the economic scars of the pandemic have left many heavily debt-laden whilst at the same time facing steep rises in costs and falling revenues. That is why TIAO is not only redoubling our efforts for greater economic supports from all levels of government and the reintroduction of the commercial eviction ban, but also calling for the writing off of significant portions of government loans such as CEBA. Such a move would give businesses greater certainty in planning to survive the pandemic and protect jobs.
As ever, the TIAO team wants to hear from you on the frontlines on how this most recent setback will affect your businesses. I want to share your stories not only with politicians and decision makers, but with interested media outlets that are giving us a platform to detail the state of the tourism and hospitality industry. Please send your thoughts directly to me at cbloore@tiaontario.ca
This is a difficult time for so many of us and today is undoubtedly a huge blow to so many of us, not just professionally, but personally. None of us wanted to be in this position, but please remember to check in on your friends, family and colleagues. If you need someone to talk to or to just let off steam, please don't hesitate in reaching out.
We're here for you.
Christopher Bloore
President & CEO
Tourism Industry Association of Ontario
---