Your weekly digest from TIAO, updating you on the latest industry news, advocacy issues and upcoming events.
Does this email not look right? Try viewing this email in a browser.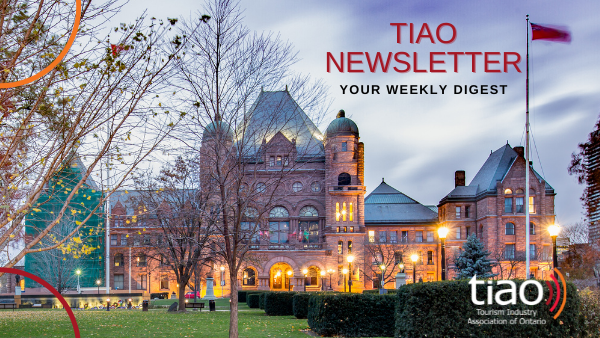 As the voice of the Ontario tourism industry, we recognize that in times of uncertainty there is a need for the industry to have access to clear and reliable information.
Our team is closely following the evolving COVID-19 situation and will link to pertinent articles on our website and social media channels, with a focus on validity and relevance to our industry. 
Email us with your Coronavirus/COVID-19 updates to feedback@tiaontario.ca 
Call us with your updates at 1-888-436-6441 (TOLL FREE)
---
FEATURED
----------------------------------------------------------------------------------
ADVOCACY
AT BRIEF
Labour has been a longstanding challenge facing our industry. Prior to the COVID-19 pandemic, OTEC projected that 80,000 tourism and hospitality jobs would go unfilled in Ontario by 2025 - a product of reputational concerns toward our industry and declining enrolment in tourism and hospitality programs, among other factors. COVID-19 has exacerbated these challenges and introduced new ones, culminating in an unprecedented labour crisis as our businesses begin the slow process of recovery.  
On every call I've had with operators and sector associations and in almost every email I receive from members, labour is mentioned as a primary concern and a significant barrier to recovery and long-term sustainability. The problem is clear: our industry is losing talent and tourism businesses across the province are having a hard time recruiting and retaining the staff they need to ramp up capacity and rebuild.  
But what's behind the problem is multifaceted. We know that it isn't just one factor that's causing the labour crisis in our industry. To address the labour crisis from a policy standpoint and on the ground from the operator level – and to tackle the causes and not just the effects - we need a better understanding of the multitude of factors driving the labour crisis. And to do that, we need to hear from workers themselves.    
Last week was an important step in this process. TIAO hosted, in partnership with OTEC, a roundtable with Minister of Labour, Training and Skills Development, Monte McNaughton. This was an important opportunity for us to illustrate the magnitude of the labour challenges, allowing Minister McNaughton to hear directly from employees in our industry who have been laid off, lost their jobs, or have been deterred from entering (or remaining in) the industry due to the pandemic. Participant after participant, it became clear that while Ontario is moving forward with recovery, our workers and our sectors (for the most part) are not there yet.  
Getting our workforce back is key to the recovery, rebuild, and long-term sustainability of the tourism industry. That's why we're conducting a survey to understand what's driving the tourism and hospitality labour crisis in Ontario. We want to hear directly from current and former employees in our industry; we want to know the challenges faced when working on the job, the increased pressures during the pandemic, and how these factors might be contributing to the labour crisis.  
We'll share the results of the survey with all of you, as well as the Ministry of Labour, Training and Skills Development and the Ministry of Heritage, Sport, Tourism and Culture Industries to help inform government decision-making to address the workforce challenges. Using the survey data, TIAO will work towards short-term and longer-range advocacy strategies to ensure that our industry has the workforce it needs to continue being a key economic driver of our provincial and national economies. 
I'm eager to see the results of the survey, but until then, if you have any questions or comments, please feel free to send me an email. Thank you for your continued support and patience.  


 Dr. Jessica Ng, PhD, Manager of Policy & Government    Affairs, TIAO 
---
TIAO SURVEY TO UNDERSTAND

WHAT'S DRIVING THE TOURISM & HOSPITALITY LABOUR CRISIS IN ONTARIO

The Tourism Industry Association of Ontario (TIAO) seeks the views of current and former employees in Ontario's tourism and hospitality industry to complete an anonymous and confidential survey to understand the challenges faced by those working in the tourism and hospitality industry, increased pressures during the pandemic, and how these factors might contribute to the current labour crisis.  

Tourism and hospitality businesses across the province are facing challenges hiring and retaining staff, making it extremely difficult to meet rising consumer demand even as the province reopens after 20 months of pandemic restrictions. Understanding the factors behind these unprecedented workforce challenges is crucial to the recovery of the industry.  

TIAO will share the results of the survey with the Ministry of Labour, Training and Skills Development and the Ministry of Heritage, Sport, Tourism and Culture Industries to help inform government decision-making to address the labour crisis.  

Please share this survey among your membership, stakeholders, partners, etc. to ensure we get a full picture of what is driving our industry's labour crisis. 

You can access the survey link here. 
FEDERAL GOVERNMENT TABLES BILL C-2

, INCLUDING THE TOURISM AND HOSPITALITY RECOVERY PROGRAM AND HARDEST-HIT BUSINESS RECOVERY PROGRAM  
On November 24, 2021, the federal government tabled Bill C-2, which included targeted support to tourism and hospitality businesses still facing significant pandemic-related challenges to recovery. As previously announced in October, if the bill is passed, financial support would be made available to tourism and hospitality businesses through the Tourism and Hospitality Recovery Program and the Hardest-Hit Business Recovery Program.  
Both Tourism and Hospitality Recovery Program and Hardest-Hit Business Recovery Program will provide targeted aid to tourism and hospitality sectors through wage and rent subsidies. As announced in October:  
The Tourism and Hospitality Recovery Program:  
Offers a subsidy rate of up to 75%  

Applies to organizations in a number of tourism and hospitality sectors, including (but not limited to): accommodations, food and beverage, travel agents, tour guides, museums, cinemas, charter bus services, amusement parks, ski hills, airports, industry associations. Full list of eligible businesses here.

Businesses must have experienced: 
an average monthly revenue reduction of at least 40% over the first 13 qualifying periods for the Canada Emergency Wage Subsidy (12-month revenue decline); 

AND a current-month revenue loss of at least 40% (the rules applicable under the previous wage and rent subsidy programs would continue to apply for the purposes of calculating the current-month revenue decline). 
Hardest-Hit Business Recovery Program  
Subsidy rate of up to 50% 

Applies to businesses in all sectors  

Businesses must have experienced: 
an average monthly revenue reduction of at least 50% over the first 13 qualifying periods for the Canada Emergency Wage Subsidy (12-month revenue decline) 

AND a current-month revenue loss of at least 50% 
For more information about these programs, see the initial program details here, the news release here, and the full list of eligible businesses for the Tourism and Hospitality Recovery Program here.  
JOIN TIAO IN TAKING THE PLEDGE

- AND ENSURE THAT ONTARIO IS THE MOST COMMITTED PROVINCE TO

SUSTAINABLE TOURISM

At the 2021 Ontario Tourism Summit, we asked our attendees to join TIAO in becoming the most sustainable provincial tourism destination in Canada and take the Sustainable Tourism 2030 Pledge - and now we are inviting all our TIAO members. 

The Sustainable Tourism 2030 Pledge is a commitment to improve the sustainability performance of your tourism business or destination between now and 2030... but this is more than a pledge.

Launched in June 2021, the Sustainable Tourism 2030 Pledge is a global movement of individuals, businesses, and organizations within the tourism and hospitality industry that believe tourism has a tremendous opportunity to become a force for good and change the world. We believe that improving the social, cultural, environmental, and economic performance of our industry in support of the UN Sustainable Development Goals and UN 2030 Agenda for Sustainable Development is not a trend or a cause, but is essential to the long term health and well-being of this important sector of the global economy. The Sustainable Tourism 2030 Pledge is built upon the GreenStep Sustainable Tourism criteria, which is aligned with, and in the case of the business criteria, has achieved "Recognized" status, with the Global Sustainable Tourism Council. We have set a goal of achieving this. 

Take the pledge here: https://www.sustainabletourism2030.com/pledge/ ... GAME ON, BC!
---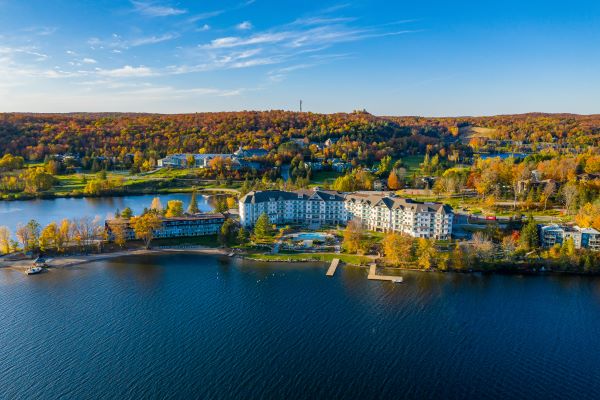 THE 2022 ONTARIO TOURISM SUMMIT

IS HEADED TO DEERHURST RESORT NEXT YEAR!

Get ready to connect, network, and learn in Muskoka on October 25 and 26, 2022. Early-Bird Registration is open now at Tourism Industry Association of Ontario | Early Bird Tickets: 2022 Ontario Tourism Summit (tiaontario.ca) See you at Deerhurst Resort for #OTS22
---
TOURISM & HOSPITALITY EMERGENCY RECOVERY

(THER)

As the tourism and hospitality sector shifts to recovery, collaboration has never been more important. The Tourism and Hospitality Emergency Recovery initiative, led by OTEC, is working with partners across Canada to develop real solutions to rebuild our sector and attract new workers. THER is actively welcoming new partners to the initiative, learn more here.

Plan de relance pour le secteur du tourisme et de l'hôtellerie 

Alors que le secteur du tourisme et de l'hôtellerie se redresse, la collaboration n'a jamais été aussi importante. L'initiative de relance pour le secteur du tourisme et de l'hôtellerie dirigée par l'OTEC, travaille en collaboration avec des partenaires aux quatre coins du Canada afin d'élaborer des solutions concrètes pour rebâtir notre secteur et attirer de nouveaux travailleurs. Le Plan de relance accueille de nouveaux partenaires dans le cadre de cette initiative. Pour en savoir plus, consultez onseprepare.ca. 
A THREE FIRES COLLABORATIVE QUEST
EMPLOYEE-TO-EMPLOYER MATCHING EVENT
Are you looking for a job in the Ontario Tourism Industry? Do you self-identify as Indigenous? Or, are you an Ontario tourism business looking to hire new employees? If you answered yes to one of these questions, we want you to Save the Date! 
The first A Three Fires Collaborative Quest Employee-to-Employer Matching Event is taking place on Monday, December 6th, 2021. If you haven't already applied for the program, there is still time! 
Apply now for A Three Fires Collaborative Quest - a program designed to build capacity for the province's tourism workforce. You will be invited to participate in the Employee to Employer Matching event taking place on December 6th, 2021. Hosted virtually, our online platform will allow you to schedule online interviews with potential employees, and vice-versa, to interview for eligible positions in 2022. For full program details and how to apply, please click here.
Related:
SONDAGE MAIN D'OEUVRE
BILINGUE EN TOURISME - BILINGUAL TOURISM WORKFORCE SURVEY
**English follows**
Êtes vous à la recherche d'employés francophones ou bilingues? Aidez la Société Économique de l'Ontario à connaître vos besoins pour que nous puissions mieux vous accompagner dans votre recrutement et courrez la chance de gagner un crédit de traduction de 2 000 mots d'une valeur de 600 $. Pour participer et répondre au sondage en français : https://fr.surveymonkey.com/r/seo-ent-fr
Are you searching for francophone or bilingual employees? Please let  the Societé Économique de l'Ontario know your needs so we can better assist you in your search. Complete today for your chance to win a 2,ooo word translation credit valued at over $600!  To participate and take the survey in English:  https://www.surveymonkey.com/r/seo-ent-en
SAFE TRAVELS STAMP

 

ADMINISTERED BY TIAO
TIAO has been chosen by the World Travel and Tourism Council (WTTC) to administer the Safe Travels Stamp in Canada. The Safe Travels Stamp is an international symbol designed to allow travellers to recognize governments and companies around the world, which have adopted health and hygiene standardized protocols  – so consumers can experience 'Safe Travels'.
Our application process has moved to an online system and you can access it here. Almost 2000 businesses have been approved. See list of successful applicants here.
SURVEY BY TOURISM SKILLSNET NORTH:

FALL & WINTER TRAINING PLANNING

In collaboration with Ontario Tourism Education Corporation, Destination Northern Ontario, Nature and Outdoor Tourism Ontario, District Social Services Administration Boards and Northern Ontario Workforce Planning Boards, Tourism SkillsNet North is reaching out to tourism business operators across Northern Ontario (Regional Tourism Organization 13) to gather information to help analyze and identify specific workforce labour gaps and available opportunities within Northern Ontario's tourism sector. The results will also aid to understand and support the skills and talent needs of the tourism sector to develop and deliver skills training in the fall and winter seasons to meet the labour gaps identified by you, the employer.  The result will be to address the needs of the local labour market and employers that have been impacted by the pandemic. Ultimately, the program will assist in the identification and training of 300 potential employees and match them with a minimum of 150 employers within Northern Ontario's tourism sector. Qualified employers will be eligible for a 30% wage subsidy to $3,000 per employee. You can use this program to train new/re-hires as well!  

To complete the survey, please click here.
STAKEHOLDER CALL

 MINUTES

There were no stakeholder calls scheduled for this week.
SURVEY ON THE FRANCOPHONE AND BILINGUAL IN 

LABOUR MARKET IN TOURISM

In order to develop targeted programs to help find them the perfect candidate, we need to know their needs. You are invited to complete this survey as part of the study on the Francophone and bilingual labour market in tourism conducted by the Société Économique de l'Ontario. 

The survey is only 5 minutes and answers will remain anonymous. If you have any questions about the survey, please contact florine@touriscope.ca. Participation in the survey offers a chance to win a translation credit worth $600! Click here to take the survey.
DO YOU HAVE

 YOUR TIAO PROUD MEMBER LOGO?

We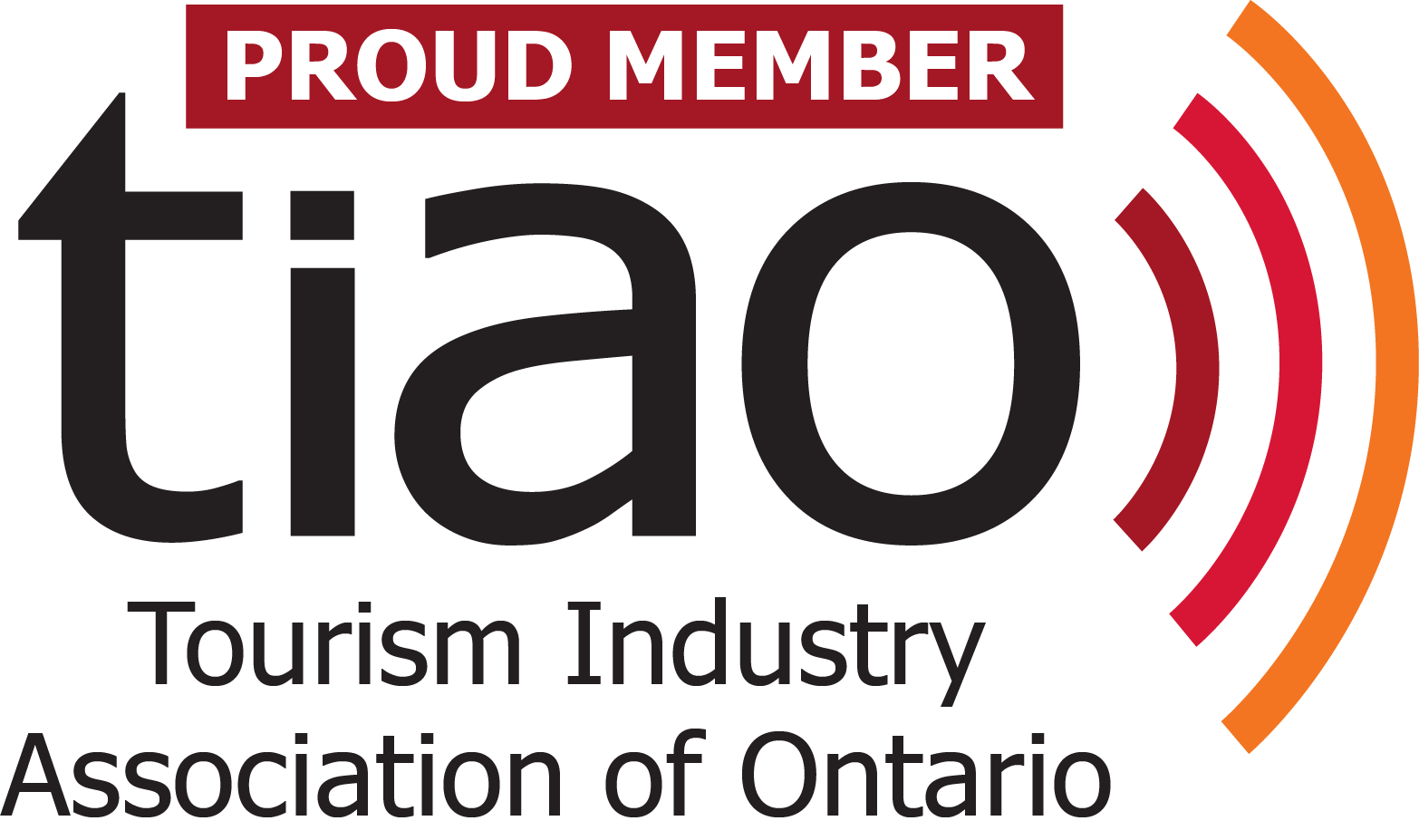 value our members and are proud to show you off, which is why we have a special TIAO "Proud Member" logo for your use. If you are a member and don't have the updated version, please reach out here.
TIAO COMPLIMENTARY

 2021 MEMBERSHIP OFFER

When you look back at this same time last year, no one could foresee what a devastating impact the pandemic has had on our industry, on our colleagues, and our families.  Throughout this past year, we have worked together, and fought hard for the industry we believe in.  The collaboration of the tourism industry has been remarkable.

We asked for you to join us each Tuesday, so that we could share the latest information, and to hear your challenges, opportunities, and questions, so that we could provide answers.  You have offered to be on committees, you have attended workshops, and in the most difficult of times, you have shown up.  Thank you for sharing how your tourism operation has been impacted.  We have heard you, we have advocated for you, and now we are pleased to offer one more way to ease your bottom line, increase your engagement, and provide an even more inclusive message as we represent your voice to the provincial government.

Our members have been incredibly supportive of TIAO, assisting us when we were in need, always willing to be there, and it is our turn to give back.  We will be extending:

Complimentary membership to the entire tourism industry in Ontario for 2021.

We look forward to hearing from you, having more input, strengthening our industry's voices and making sure tourism is represented.

How does this work if I am an existing member of TIAO?

For our current members, we will be reaching out to them directly. They will be provided an option to choose:
Extend their existing membership by another year or
Become a Green shoots sponsor - For those members that can afford to pay their membership, we will recognize the value of their existing membership through sponsorship (Green shoots sponsor) and use this value of their membership to continue the research and vital actions to rebuild and represent the industry's voice to government in Ontario.
How does this work if I want to become a member of TIAO?
We are glad to extend this to the industry. We ask that you reach out to us directly here  and we will set up your membership.  We will also extend to you the option as we do to our existing members.
Membership within TIAO for a period of one year from date of signing.
Become a Green shoots sponsor - For those new members that can afford to pay their membership, we will recognize the value of their membership through sponsorship (Green shoots sponsor) and use this value of their membership to continue the research and vital actions to rebuild and represent the industry's voice to government in Ontario.

Why Green shoots? 
Green shoots is a term used to describe signs of economic recovery or positive data during an economic downturn. The term green shoots is a reference to plant growth and recovery and has been used during down economies to describe signs of similar growth.
Welcome to the Tourism Industry Association of Ontario. 
We are your association, and we are here for you!
---
GOVERNMENT RELEASES
-----------------------------------------------------------------------------------
Ontario Building Municipal Infrastructure in the North
Northern Development, Mines, Natural Resources and Forestry 
The Ontario government is providing $15 million annually to northern municipalities to help support infrastructure projects over the next five years. The new Northern Ontario Resource Development Support (NORDS) Fund will share the benefits of mining and forestry with municipalities and complement existing funding streams for building infrastructure.
COVID-19 Vaccine Bookings to Open For All Children Aged Five to 11
Health 
Following Health Canada's approval of the paediatric Pfizer COVID-19 vaccine, children aged five to 11 will be eligible to book their appointment to receive the vaccine beginning Tuesday, November 23, 2021. Approximately one million children aged five to 11 are eligible to receive the vaccine which will help protect Ontario's progress in the fight against COVID-19 and keep the province's schools safer and open for in-person learning as more people move indoors and attend family gatherings during the colder months this winter.
Governments Protecting the Mental Health of Ontario Farmers
Agriculture, Food and Rural Affairs
The governments of Canada and Ontario are protecting the mental health of farmers and their families by investing more than $7 million dollars through the Canadian Agricultural Partnership to launch two, new multi-year mental health initiatives that are specialized to support those in the agriculture sector.
Ontario Helping More People Train for New Careers and Opportunities
Office of the Premier 
The Ontario government is providing financial support to workers by expanding the Second Career Program and proposing to extend the Ontario Jobs Training Tax Credit. The training program would be expanded to serve more people on social assistance, those who are self-employed, gig workers, youth, newcomers, and others who need a hand up, while the tax credit would be extended to 2022.
---
INDUSTRY NEWS
-----------------------------------------------------------------------------------
Wiarton Willie dead, to be replaced by brown groundhog at February 2022 festival
Soo Today 
Rumours of Willie's death had swirled since Groundhog Day after a video was released that showed the mayor tossing a fur hat and making the annual prediction about how much longer winter would last, without the animal in sight.
Program aims to spark entrepreneurs
Simcoe Reformer 
The counties have thrown the floor open to proposals from aspiring entrepreneurs who want to help make Norfolk and Haldimand the destination-of-choice for day-trippers and vacationers.
'It's critical': A strong tourism presence helps businesses thrive, grow
Orangeville.com 
It's been nearly a year since a five-year tourism strategy suggested Orangeville could become a 'burgeoning tourism destination', and the town is moving forward with plans to achieve that goal.
Barrie Chamber of Commerce names 2021 Business Award winners
CTV News  
The Chamber of Commerce says the awards are intended to acknowledge a set of values that recognizes social responsibility, entrepreneurial spirit, risk taking, ideas and innovation in the community.
Federal government providing $500M for tourism industry
Blackburn News 
Huron County's Tourism Development Officer says the Federal government is providing $500M over the next two years to help kick start the country's tourism industry recover from the pandemic.
Looks Like Tourism To Quebec Has Had A Huge Spike But More People Keep Going To Ontario
MTL Blog 
Despite what looks like a huge spike in tourism to Quebec this August, way more people entered Canada via Ontario during the summer months.
Ontario unveils campaign to encourage international travel
Travel Daily Media
Recognizing that, once it is safe to do so, a significant segment of international travellers will fly to Ontario to visit family and friends who live here. Destination Ontario worked with its creative agency of record, FCB Canada, to develop a campaign targeted at reuniting loved ones and experiencing Ontario's tourism offerings together.
Staycation tax credit welcome
Ontario Out of Doors 
Outdoors tourism operators welcome the province's planned staycation tax credit announced in the 2021 Fall Economic Statement earlier this month. Ontarians would get a 20% personal income tax credit on eligible accommodation expenses between Jan. 1 and Dec. 31, 2022, up to a maximum of $1,000 for an individual and $2,000 for a family, for a maximum credit of $200 or $400, respectively.
Ontario Northland conducting train test runs from North Bay to Toronto
CTV News 
Ontario Northland is conducting a test run is to gauge interest and information on re-establishing a passenger rail service to the north.
Dawn of a new era of growth and tourism for the Prescott-Russell Recreational Trail
The Review 
An agreement in principal between VIA Rail Canada and the Prescott-Russell Recreational Trail Corporation (PRRTC), where the corporation will acquire the trail's existing infrastructure, could be the beginning of a new era of tourism and growth for the trail say representatives from the PRRTC and the United Counties of Prescott and Russell (UCPR).
Local Tourism Innovators Awarded "Spark" Grants and Mentorships
Sault Online 
Three finalists who made winning pitches for the Algoma Country "Spark" Program were each awarded a $3,000 grant and mentorship to help take their new tourism ideas to the next level of development. The 2021 Algoma Country "Spark" Program winners are: Amanda Cora & Brad Robinson, Thrive Tours (Winter Experiences); Mylène Coulombe-Gratton, Follow Her North (Outdoor Tours); Tatum & Tory Lesage, Hidden Hills Stables (Equestrian Excursions).
Smiths Falls council backs loosening of cannabis consumption rules
Toronto Star 
Ontarians should be allowed to consume cannabis products, other than smoking or vaping, in licensed establishments, Smiths Falls council believes. Council last week urged the provincial government to allow that to happen.
City of Toronto and bid partners welcome FIFA delegation for FIFA World Cup 2026 host city site visit
City of Toronto
Toronto is a candidate host city for the FIFA World Cup 2026 along with other cities in Canada, Mexico and the United States. As part of the North America United bid, Toronto is in consideration to host multiple games and major fan events across the city for the duration of the 30-day tournament.
Uber enters booming cannabis market with orders in Ontario
Reuters 
Uber Technologies Inc (UBER.N) will allow users in Ontario, Canada, to place orders for cannabis on its Uber Eats app, marking the ride-hailing giant's foray into the booming business.
Restaurant owners say they have the answer to the current labour shortage: Better pay, benefits and balance
The Globe and Mail
As the hospitality industry struggles to rebuild from the pandemic, it's facing a mountain of unfilled jobs. Some restaurant owners say they have a solution: offer prospective hires more pay, better benefits and a more supportive work environment.
Barrie Sharkfest tourney ushers in economic rebound for sports tourism
Barrie Today 
With 148 teams from across Ontario descending on the city, Tourism Barrie estimates the local economy got a much-needed $1.5-million infusion. Another hockey tournament next weekend, with 60 teams, is expected to result in another $1.1 million in visitor spending.
Destination Northern Ontario Congratulates the 2021 Northern Ontario Tourism Industry Leader Award Winners
Sault Online 
In conjunction with the third Northern Ontario Tourism Training Week, held virtually from November 16th to November 19th, Destination Northern Ontario is announcing its slate of 2021 winners for the Northern Ontario Tourism Industry Leader Awards.
Canada drops molecular COVID-19 test requirement for short trips abroad
CTV News 
As of Nov. 30, fully vaccinated Canadians and permanent residents returning home after short trips to the United States and abroad will no longer have to provide proof of a negative molecular test, such as a PCR test.
Related:
Renfrew County receives additional $400,000 for 2022 Ontario Winter Games, less than 100 days to the games
The Kingston Whig Standard 
It's been a year since Lisa MacLeod announced virtually that the County of Renfrew had won the bid to host the games and on Nov. 16, the Minister of Heritage, Sport, Tourism, and Culture Industries was back in the county in person to announce an additional $400,000 in funding towards the games, on top of the initial $1 million commitment.
Red Lake Miners Appointed Host 2022 Dudley-Hewitt Cup Central Canada Junior A Championship
Lake Superior News 
The tournament will feature the SIJHL, NOJHL and OJHL playoff champions along with the host Red Lake Miners and will be held May 10 – 14, 2022 at the Cochenour Arena, home of the Red Lake Miners.
Tourism SkillsNet North
Destination Northern Ontario 
Did you know you can use the Tourism SkillsNet North program to help fill your rehiring needs for 2021? If you have employees you've had to lay off or let go because of the pandemic and are going to be hiring back as COVID-19 restrictions lift, now is the time to act to ensure you qualify for these special subsidies. With access to 30% of wages, up to a maximum of $3,000 per employee available for qualifying employers, the time to act is now! Any employer can only qualify for up to two positions.  To learn more please click on the link in the title.
 

November 26 to 27, 2021 - Canadian Reggae Music Conference

November 29, 2021 Not 9 to 5's Kitchen Table Talks

November 30 - December 1, 2021 TIAC 2021 Tourism Congress

December 3 - December 18, 2021 The Ontario Festival of Small Halls Deck The Small Halls Series

December 9, 2021 MPAHT Virtual Education - Blurred Lines: Supply Chains, Survivors & The Law

December 9, 2021 Destination Ontario Presents: Photo and Video Best Practices

December 9, 2021 Destination Canada's Virtual Annual Public Meeting 2021

January 12, 2022 TIAO Presents: Session One of the Webinar Series - Building Inclusive Tourism

February 9, 2022 TIAO Presents: Session Two of the Webinar Series - Building Inclusive Tourism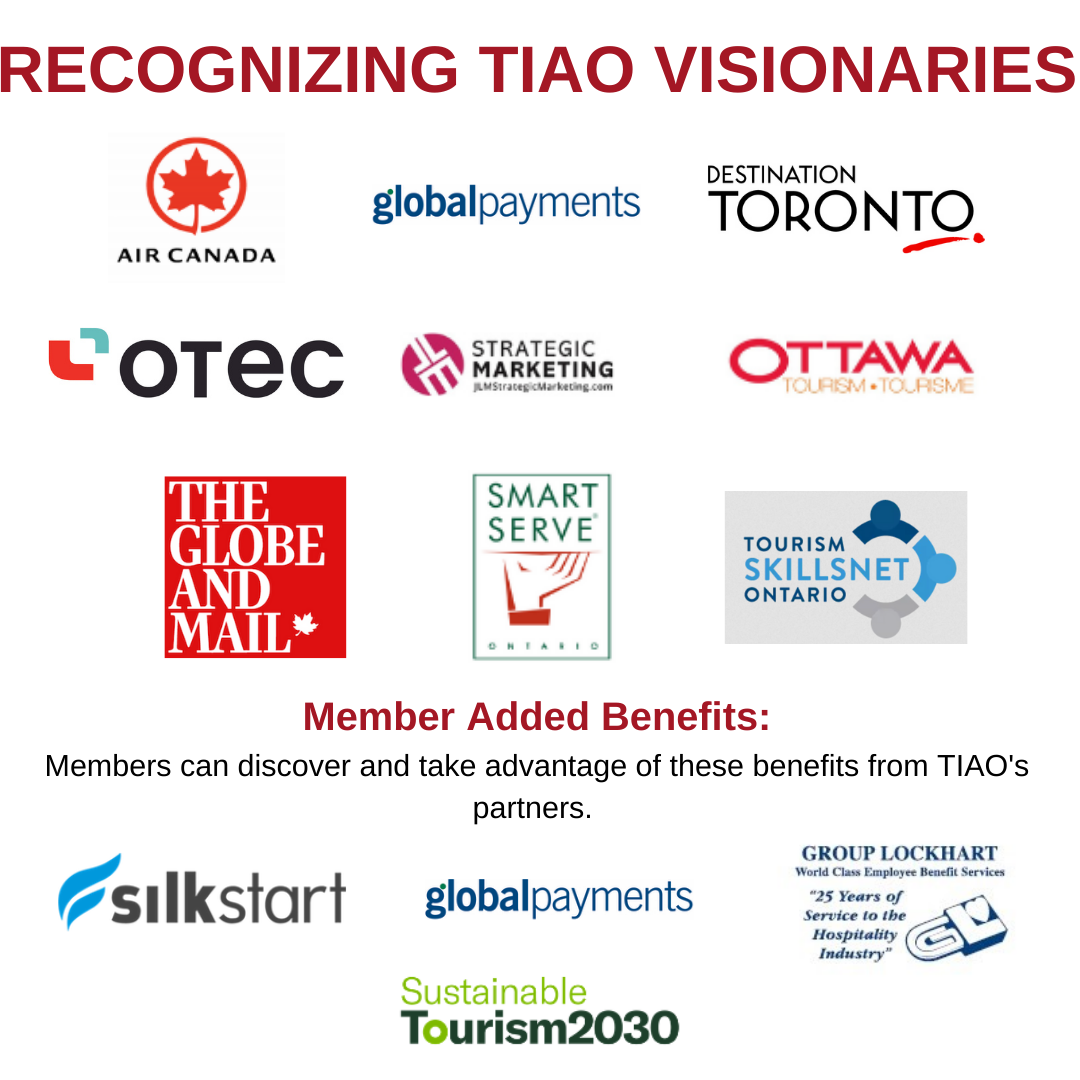 Copyright © 2021

Tourism Industry Association of Ontario

, All rights reserved.
 

This email was sent by:
Tourism Industry Association of Ontario
439 University Avenue, Suite 1400
Toronto, Ontario, M5G 1Y8

 

You have received this email because you are a member or existing contact of Tourism Industry Association of Ontario, a membership organization powered by SilkStart. update notification preferences unsubscribe from this list