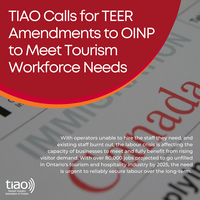 On November 24, 2022, the Hon. Monte McNaughton announced that the Ministry of Labour, Immigration, Training and Skills Development (MLITSD) had reached an agreement with the Hon. Sean Fraser, federal Minister of Immigration, Refugees and Citizenship—an agreement which will increase the number of immigrants Ontario can select and give Ontario a greater say in economic immigration to the province through the Ontario Immigrant Nominee Program (OINP).
In light of this announcement, TIAO has called on Minister McNaughton to amend the OINP to ensure it meets tourism workforce needs as our industry grapples with an unprecedented labour crisis. With operators unable to hire the staff they need, and existing staff burnt out, the labour crisis is affecting the capacity of businesses to meet and fully benefit from rising visitor demand. With over 80,000 jobs projected to go unfilled in Ontario's tourism and hospitality industry by 2025, the need is urgent to reliably secure labour over the long-term.
Our recommendations to amend the OINP include:
On a time-limited basis, Including TEER 4 and TEER 5 occupations for qualifying job offers and work experience
Increasing the number of newcomers allowed to enter under the OINP from 9,000 to 18,000.
To read our letter to Minister McNaughton, see here.
---