Your weekly digest from TIAO, updating you on the latest industry news, advocacy issues and upcoming events.
Does this email not look right? Try viewing this email in a browser.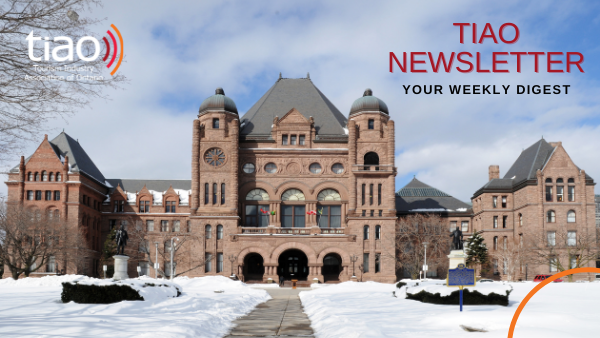 Follow us on our social media channels for news, industry briefs and information with a focus on validity and relevance to our industry. 
---
FEATURED
----------------------------------------------------------------------------------
ADVOCACY

AT BRIEF

As we approach the end of January, advocacy at TIAO has had a non-stop first month of 2022: 

Since before the holidays, we were aware that the province's requirement to use the vaccine certificate with QR code in settings where proof of vaccination is required would pose a serious problem for international visitors without a QR code and other groups (such as Indigenous patrons) facing access barriers to the vaccine certificate. For the past 4 weeks, we have been pressing the Ministry of Health for a solution. As indoor settings are set to reopen on January 31st, we are expecting an announcement from the government tomorrow with guidance on QR codes for international visitors. We are pleased that a solution is about to be announced. 

As we approach the first phase of reopening in Ontario, we also await the consolidated public health regulations. With a month-long closure of indoor settings in response to the rapid spread of the Omicron variant, business revenues have suffered, having lost the prime revenue-generating period of the holiday season. It is time for our tourism and hospitality businesses to resume their recovery.  

This week, we brought TIAO's advocacy directly to rural municipalities and the province's Cabinet ministers and staff at the 2022 ROMA (Rural Ontario Municipal Association) conference. With our tourism delegation—consisting of NOTO, Destination Northern Ontario, ITO, SEO, Resorts of Ontario, RTO9, Kingston Accommodation Partners, Blue Mountain Village Association, and the Ontario Snow Resorts Association—we met with 15 ministries and the Green Party of Ontario.  

In every meeting, our focus was the recovery of rural tourism businesses and the need for continued government support. With the data you provided us in our ongoing survey on the challenges facing tourism businesses in 2022, we conveyed the precarious situation facing Ontario's 200,000 tourism businesses. More than half of the province's tourism businesses reported decreased bookings and rising cancellations since the Omicron variant was first detected in November. Since the start of the pandemic, 7 in 10 businesses have taken on up to $500,000 in debt to remain afloat and anticipate that it will take at least 2 years to resolve. Moreover, half of our members reported a pessimistic outlook for the recovery of their business and the industry as a whole. As we close in on two years of the COVID-19 pandemic and face a prolonged recovery due to the spread of Omicron, the support of all ministries is more important than ever in our rebuild. With your help, we made a strong case for our policy asks.  

In our meeting with the Ministry of Finance, we advocated for additional grant-based funding for tourism businesses that have faced barriers in accessing provincial and federal COVID-19 relief due to eligibility criteria restrictions. These include sole proprietors, privately-owned commercial hotel units, and independent travel agents. We continued to advocate for immediate action on high commercial insurance rates. With 7 in 10 tourism businesses facing mounting debt, we again pushed for the Ministry to work with federal counterparts to take action by providing relief on CEBA and RRRF loans.  

In our meeting with the Hon. Monte McNaughton, Minister of Labour, Training, and Skills Development, we pushed for strategies to ensure that rural tourism destinations have the workforce required to recover and thrive in Ontario. We pushed for ministerial support for TIAO's own Tourism Workforce Recovery and Investment Strategy—a multi-pronged, cross-ministerial strategy consisting of a marketing campaign promoting tourism as an employment destination, a tourism-focused immigration pathway, and short-term and long-term strategies to address labour and skills gaps in regional tourism economies. 

In our meeting with the Ministry of Northern Development, Mines, Natural Resources and Forestry, we emphasized the need for targeted financial supports for resource-based tourism businesses and the waiver of 2022 crown resource fees. In our discussions with the Hon. Caroline Mulroney, Minister of Transportation, the Hon. Kinga Surma, Minister of Infrastructure, and MPP Mike Schreiner, Leader of the Green Party of Ontario, we underscored the need for timely upgrades in transportation, infrastructure, and affordable housing in rural destinations to support visitor movement and long-term workforce recruitment and retention.  

And in our meeting with the Ministry of Heritage, Sport, Tourism and Culture Industries, we brought forward proposals to help bring business events back to Ontario and promote the domestic visitor market. These include developing a fund for hybrid events and making the Ontario Staycation Tax Credit annual. 

But that's not all we did at ROMA! In addition to pushing for progress on existing files, getting our foot in the door on others, and building the basis for future discussions with government, we met with 60 municipal councillors, mayors, and economic development officers from rural and Northern municipalities. During these municipal meetings at TIAO's booth exhibit, we got a frontline look at the challenges facing rural municipalities and how these might impact the local growth and sustainability of tourism businesses. Similar to previous years, infrastructure, connectivity, and transportation—all critical issues for rural regions—were raised across visits to our booth. But a new issue came up repeatedly and throughout the province: affordable housing and homelessness.  

In our booth visits and in every meeting at ROMA, we emphasized the importance of access to COVID-19 testing for workforce capacity. Joining calls by the Greater Toronto Airports Authority, TIAC, Air Canada, and Toronto Pearson, we recommended that on-arrival PCR testing be redeployed from airports to local communities. This would free up 8,000 tests per day from Toronto Pearson alone at a time when communities across the province are experiencing scarce COVID-19 testing resources, impacting vulnerable groups, workers, and the staff capacity of local tourism and hospitality operators. With many tourism businesses unable to reopen at full capacity due to staff shortages, access to testing is critical to the ability of businesses to sustain and ramp up workforce capacity while protecting the health and safety of all Canadians. This week, we sent a letter to Prime Minister Trudeau calling for the redeployment of on-arrival testing at Canadian airports.  

Finally, building upon our meetings at ROMA, we also had the opportunity this week to submit consultative feedback for the province's 2022 Budget. In our pre-budget consultation submission, we gathered our key policy asks presented at ROMA, totalling 22 recommendations, which we believe are necessary to support the immediate and long-term recovery of our industry.  

TIAO's advocacy is off to a blazing start in 2022. Over the next weeks and months, we will build upon our discussions had and connections made at ROMA to advance the recovery and rebuild of our industry. Stay tuned for updates on our progress.  

Dr. Jessica Ng, PhD, Director, Policy and Government Affairs, Tourism Industry Association of Ontario
---
CALL TO ELIMINATE
ON-ARRIVAL COVID-19 PCR TESTING IN CANADIAN AIRPORTS 
TIAO supports the recent industry calls on the federal government to stop on-arrival testing for fully vaccinated travellers showing no symptoms of COVID-19 and to redeploy those PCR tests into Canada for community use.  
The high positivity rate in communities across the country and within Ontario is impacting our ability to recover as an industry. The lack of access to PCR testing at the community level is prolonging the reopening of the economy, as COVID-19 testing has long shown to be a key tool in containing the spread of the evolving COVID-19 pandemic. Without adequate PCR testing, the recovery of the tourism industry will continue to be delayed.  
As all persons travelling to Canada must take a PCR test prior to arrival at this time, there is no health or scientific rationale for a second test upon arrival. With lack of tests at the community level, doubling up of testing for travellers with an incredibly low positivity rate is not the best option. Redeploying these tests back to the community level would not only benefit local and regional tourism businesses – it would benefit the overall wellbeing of Canadians. 
TIAO, along with TIAC, other industry organizations, and your government, have worked hard to keep travel and tourism safe. Now is the time to shift testing resources to where they're needed most. Removing arrivals PCR testing from Toronto Pearson airport alone would free up 8,000 tests a day for the GTA, which will help keep our most vulnerable safe.  
We are calling on the Government of Canada and the Government of Ontario to implement changes to arrivals testing processes to help ensure scarce PCR tests are used where they're needed most.  
To read our letter, please visit here 
To read Chief Medical Officers of Health for Air Canada, Toronto Pearson, and WestJet's open letter, please visit here. 
---

MINISTER MACLEOD

TO HOST A VIRTUAL MULTI-SECTORAL TECHNICAL BRIEFING

Join Minister Lisa MacLeod on a virtual multi-sectoral technical briefing to discuss public health measures impacting Ontario's heritage, sport, tourism and culture industries.

A briefing on regulatory changes and their impacts on our sectors will be presented by Assistant Deputy Ministers and representatives from the Office of the Chief Medical Officer of Health.

Time: Friday, January 28, 2022 – 1:00 p.m.
 
Detailed instructions on how to register are here.
---
WRITE TO YOUR LOCAL MP
FOR CEBA AND RRRF RELIEF 
As the pandemic continues to result in restrictions and closures throughout Ontario and Canada, tourism and hospitality businesses are struggling to survive as revenue losses, job losses, layoffs, increasing debt, and uncertainty to reopening are putting businesses at risk of financial insolvency and permanent closure. These factors affect debt repayment and financial solvency capacities, especially for the hardest-hit businesses.  
Debt relief remains a top priority for many tourism businesses and one we have continued to advocate for both provincially and federally. As such, TIAO is recommending to increase both the Canada Emergency Business Account (CEBA) and the Regional Relief and Recovery Fund (RRRF) maximum loan forgiveness amount by up to $10,000 if the balance of the loan is repaid by the end of the 0% interest-free grace period; and extending the interest-free repayment period for CEBA loans and RRRF loans from their current end date of December 31, 2023 to December 31, 2024.  This will help reduce the financial burden many businesses and organizations are currently facing. 
On January 12, the federal government announced that the repayment deadline to qualify for partial loan forgiveness for both the CEBA and RRRF loans is being extended from December 31, 2022, to December 31, 2023.  But, since the start of the pandemic, about 7 in 10 Ontario tourism businesses have taken on debt that will take at least 2-3 years to resolve; this month, almost half of the province's tourism businesses reported a pessimistic outlook for the future of their business and that of the tourism industry. As such, while this extension will provide some relief, it will not be enough. 
TIAO is asking you to write to your local MP and urge them to consider our recommendations. You can access the form letter here. Please address the letter to your local MP: You can find who your MP is here by typing in your postal code. For more information, and to access images you can use in your own social media campaign, please click here.
The need for debt relief is even more urgent with the Omicron COVID-19 variant. As the province rebuilds its economy and Ontarians return to a new normal, Ontario tourism must not be left behind. Reopening does not mean recovery. 
---
TIAO SURVEY

ON THE CURRENT CHALLENGES FACING ONTARIO'S TOURISM BUSINESSES IN 2022 

TIAO is conducting a survey to collect up-to-date information on the current challenges facing tourism business operations. The purpose of the survey is to understand the impact of the Omicron variant, related restrictions, and what Ontario's tourism businesses need to recover and rebuild in 2022.  

After 21 months of closures, restrictions, job losses, layoffs, revenue losses, and mounting debt, the tourism industry faces a long process of recovering and rebuilding. With rising COVID-19 cases driven by the Omicron variant and the return of several province-wide public health restrictions, the road to recovery has recently become more challenging.   

We seek your assistance in providing this high-level reporting so that we can advocate on your behalf. Please take 5 minutes to fill out the survey.

Please click here to fill out the survey. 
---
DEADLINE APPROACHING:

RECONNECT ONTARIO 2022 PROGRAM

Attention Festival and Event organizers: the Reconnect Ontario 2022 program is open for eligible festivals and events taking place between April 1, 2022, and March 31, 2023. For more information including eligibility and how to apply, view the application guide here.

The deadline to apply for the Reconnect Ontario 2022 program is Wednesday, February 2, 2022, at 5:00pm (EST).
---
REMINDER: ONTARIO LIFTING

PUBLIC HEALTH AND SAFETY MEASURES

The provincial government has announced the lifting of certain public health and safety measures. The Ontario government will follow a phased approach to gradually easing COVID-19 restrictions, with 21 days between each step, starting January 31, 2022.  

For more information, please visit here. 
---
GREAT TASTE OF ONTARIO Q4 PARTNER REPORT

 + SAVE THE DATE!

The Culinary Tourism Alliance is excited to share the Q4 Great Taste of Ontario Partner Report with you today. In it, you'll find metrics and an overview of marketing outcomes from activity between October 1st, 2021 and December 31, 2021.
We'd also like to invite you to one of three virtual sessions being hosted in the coming weeks to present the final outcomes of the campaign. Please save the date for one of the following:
1. TIAO Northern Ontario Tourism Update Call
Tue, Feb 1, 2022 12:00PM - 1:00PM

2. TIAO Southern Ontario Tourism Update Call
Tue, Feb 1, 2022 3:00PM - 4:00PM

3. All GTOO Partners
Wed, Feb 2, 2022 11:15 PM - 12:00PM
You only need to attend one of these sessions. If you wish to attend the GTOO call on Wednesday, please RSVP to Agatha Podgorski at agatha@culinarytourismalliance.com. 
We look forward to sharing success stories and news of program developments with you then.
You can download the Q4 Great Taste of Ontario Partner Report here.
---
FEBRUARY 7TH
A THREE FIRES COLLABORATIVE QUEST 
EMPLOYEE-TO-EMPLOYER MATCHING EVENT   
After two successful events, we are hosting another Employee-to-Employer Matching Event as part of A Three Fires Collaborative Quest program. 
Taking place on Monday, February 7th, 2022, our virtual platform will allow video interviews to be scheduled between employers and potential employees in the Ontario tourism industry. If you haven't already applied for the program, there is still time!
To be eligible for the program as a potential employee, you must identify as Indigenous and to apply for the program as an employer, you must be a tourism business in Ontario, and you must be willing to support your new employee's training and development in collaboration with the program.
For full program details and how to apply, please click here.
---

BUILDING INCLUSIVE TOURISM
FEBRUARY 16: BETTER BUSINESS DISCOVERY PROCESS
Join us by registering each month for our webinar series on Building Inclusive Tourism.
On Wednesday, February 16, 2022, at 12 pm, we are presenting the Better Business Discovery Process
Session Information: Building better business through diversity, equity, and inclusion starts with each individual assessing the past, present and future to identify opportunities to improve, adapt and shift. This workshop will provide the steps to conduct a discovery within your own operations and businesses to identify current gaps. You will gain insights through hearing about other's experiences in the marketplace as we share best practice stories and examples of how adjusting your business to be more inclusive lead to better business success.
Featuring Guest Speakers: 
Moderator: Maxine Gundermann - Market Sales Manager, Eastern Ontario, Celebrity Cruises, Inc.
Register now and let the learning begin, please click here.
---
INVITATION TO PARTICIPATE

: CSA GROUP RESEARCH SURVEY FOR CANADIAN FEMALE WORKERS: ASSESSING SATISFACTION WITH WORK-MANDATED PPE
CSA Group is conducting a research project entitled "Investigating the Challenges Canadian Women Face Regarding Work Mandated PPE".  The research project is examining how PPE meets the needs of Canadian women at a holistic level, and the output is intended to be used to inform the development of new PPE standards, and updates to existing PPE standards. The output might also inform standards development activities beyond PPE.  The research project includes a literature review, environmental scan, key informant interviews, high-level review of existing CSA Group PPE Standards, and a direct survey of female workers to better understand how PPE is suited to, and meeting the needs of, Canadian women.  The final research report will be published on the CSA Group Standards Research webpage upon completion.
Hoping that you can spare a few minutes to participate in this online survey (link provided below). The survey is confidential should take approximately 12 minutes to complete. Any reporting or references to survey results will be presented in aggregate form only.  Note: an independent research firm is managing the survey responses and aggregation on behalf of CSA Group to ensure complete anonymity and confidentiality.
Link to the survey here 
Deadline to complete is February 4, 2022.
---
ITO IS SEEKING PROPOSALS

FOR EITHER COMBINED OR INDIVIDUAL BUSINESS PLANS FOR VIRTUAL REALITY (VR) & AUGMENTED REALITY (AR) TECH PROJECTS

ITO, working with two distinct technology partners, is in the process of developing both VR and AR experiences and platforms. These platforms will offer users immersive, culturally authentic experiences that promote greater education toward Indigenous culture and a unique way to engage with and access Indigenous experiences. These projects will allow ITO and its partners the opportunity to promote Indigenous tourism businesses in an exciting and innovative manner. Most significantly, these projects will benefit Indigenous tourism operators with additional revenue streams, greater access to markets, and increased capacity. These projects achieve ITO's strategic goals of developing brand integrity, building capacity and increasing economic opportunities, and marketing and branding authentic products and services; ultimately providing valuable support for Indigenous communities and entrepreneurs.

Submit your proposal by February 15th, 11:59pm to Director of Operations, Leni Brem, via email at lbrem@indigenoustourismontario.ca.

View the RFO by clicking here.
---
JOIN TIAO IN TAKING THE PLEDGE

- AND ENSURE THAT ONTARIO IS THE MOST COMMITTED PROVINCE TO

SUSTAINABLE TOURISM

Are you interested and committed to being more sustainable? Are you curious, but don't know where to start. Start your 2022 by taking the pledge.

The Sustainable Tourism 2030 Pledge is a commitment to improve the sustainability performance of your tourism business or destination between now and 2030... but this is more than a pledge.

Launched in June 2021, the Sustainable Tourism 2030 Pledge is a global movement of individuals, businesses, and organizations within the tourism and hospitality industry that believe tourism has a tremendous opportunity to become a force for good and change the world. We believe that improving the social, cultural, environmental, and economic performance of our industry in support of the UN Sustainable Development Goals and UN 2030 Agenda for Sustainable Development is not a trend or a cause, but is essential to the long term health and well-being of this important sector of the global economy. The Sustainable Tourism 2030 Pledge is built upon the GreenStep Sustainable Tourism criteria, which is aligned with, and in the case of the business criteria, has achieved "Recognized" status, with the Global Sustainable Tourism Council. We have set a goal of achieving this. 

Take the pledge here: https://www.sustainabletourism2030.com/pledge/
---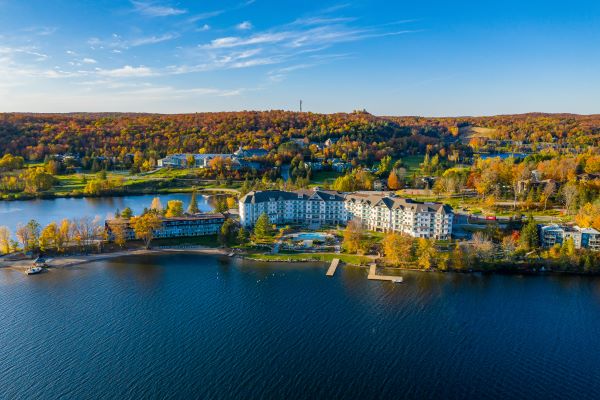 EARLY BIRD ENDS

AT MIDNITE TOMORROW NIGHT JANUARY 28, 2022
Get ready to connect, network, and learn in Muskoka on October 25 and 26, 2022.
Early-Bird Registration closes January 28th!!!
Register now at Tourism Industry Association of Ontario | Early Bird Tickets: 2022 Ontario Tourism Summit (tiaontario.ca) See you at Deerhurst Resort for #OTS22
---

TOURISM & HOSPITALITY EMERGENCY RECOVERY

(THER)

The tourism and hospitality sector is struggling to recruit talent. Ski operators, winter resorts, restaurants and hotels are worried about turning away guests because they don't have enough staff. According to our most recent Labour Force Survey report, total employment in Canada has recovered to pre-pandemic levels, but employment within the tourism sector remains significantly suppressed. Tourism and Hospitality Emergency Recovery, led by OTEC, is working with partners across Canada to drive recruitment and support sector recovery. Learn more at LetsGetReady.ca

Le secteur du tourisme et de l'hôtellerie a de la difficulté à recruter des talents. Les exploitants de stations de ski, les stations d'hiver, les restaurants et les hôtels craignent de refuser des clients parce qu'ils manquent de personnel. Selon le dernier Rapport de l'Enquete sur la population active, l'emploi global au Canada a retrouvé son niveau d'avant la pandémie, mais l'emploi dans le secteur du tourisme reste considérablement réduit. Le Plan de relance pour le secteur du tourisme et de l'hôtellerie, dirigé par l'OTEC, collabore avec des partenaires partout au Canada afin de stimuler le recrutement et soutenir la reprise du secteur. Pour en savoir plus, visitez le site onseprepare.ca.
---
STAKEHOLDER
CALL MINUTES
There was no Industry Update Call on Tuesday, January 25th as the TIAO Team was attending ROMA with our tourism delegation.
---
SAFE TRAVELS STAMP

 

ADMINISTERED BY TIAO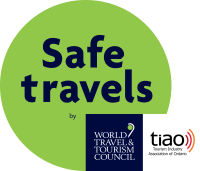 TIAO has been chosen by the World Travel and Tourism Council (WTTC) to administer the Safe Travels Stamp in Canada. The Safe Travels Stamp is an international symbol designed to allow travellers to recognize governments and companies around the world, which have adopted health and hygiene standardized protocols  – so consumers can experience 'Safe Travels'.
As we are being asked to limit our travel, recognize that the Safe Travels Stamp contributes to comfort with consumer sentiment both from travelers to your area and for your local community. This recognition can lend itself to peace of mind.
Our application process has moved to an online system and you can access it here. Almost 2000 businesses have been approved. See list of successful applicants here.
---
DO YOU HAVE

 YOUR TIAO PROUD MEMBER LOGO?

We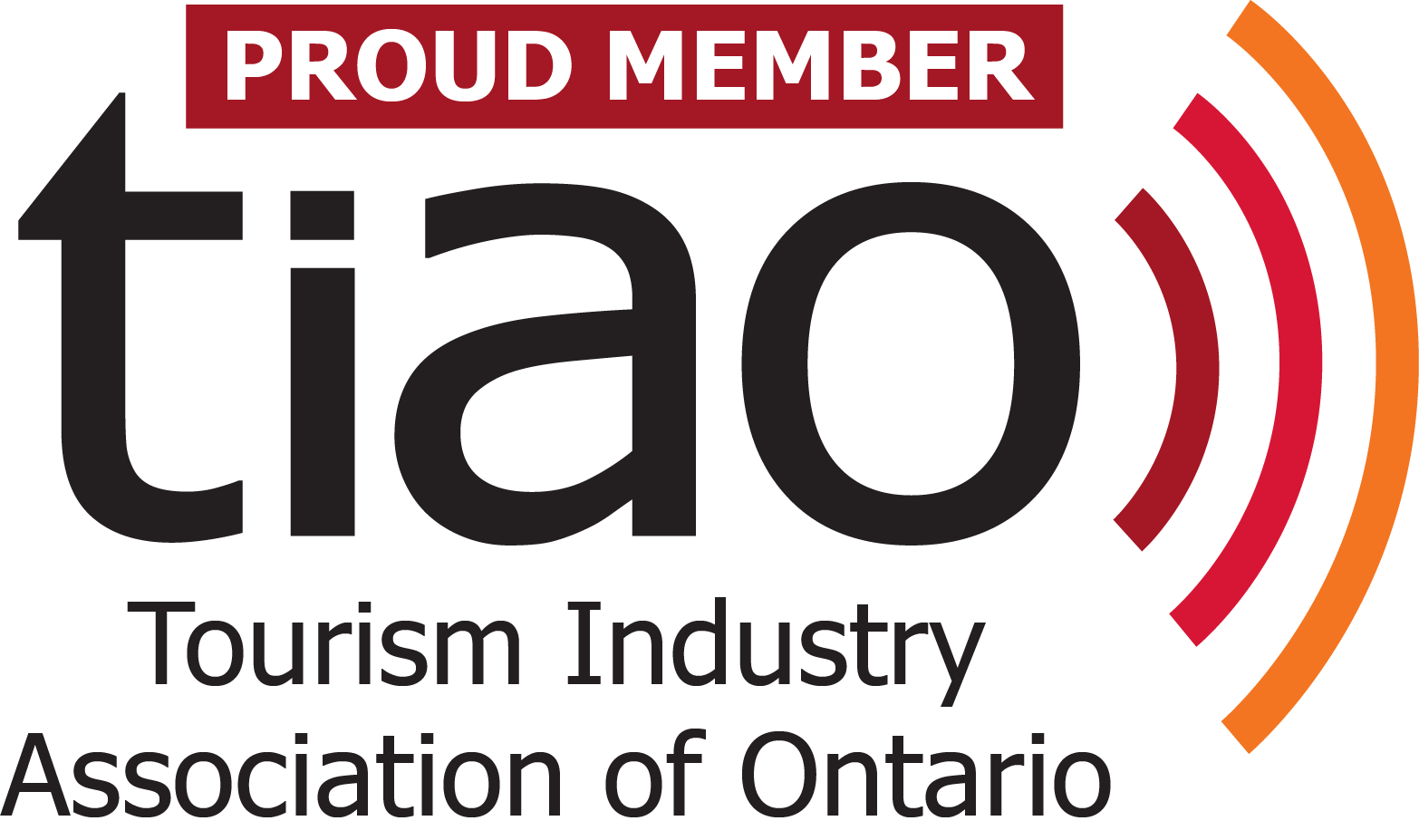 value our members and are proud to show you off, which is why we have a special TIAO "Proud Member" logo for your use. If you are a member and don't have the updated version, please reach out here.
MEMBERSHIP IN 2022

– IS IT COMPLIMENTARY?

In 2020, thanks to a grant provided by the Ministry of Heritage, Sport, Tourism and Culture Industry, we had the opportunity to be able to extend complimentary membership for one year.  TIAO then chose to extend this again in 2021 recognizing the continued struggle.  We need to move forward and rebuild but we know that Re-opening does not mean recovery. 

In yet another transition year - we need to charge for membership - but we are keeping our rates level and asking the RTOs, DMOs, Sector Associations, Government, Tourism Industry Suppliers and Educators to pay - as we work with you to cascade up and down the information so that we can continue to collaborate and work together to deliver the voice to industry.

We are offering complimentary membership to tourism operators IF the tourism operator is a member of their local DMO and/or Sector Association.  We recognize that tourism operators are still challenged. By aligning with the DMOs/Sector Associations we are allowing tourism operators to not have to choose IF they can only afford one membership - we want them to work with those that can market and bring them business.  

For those tourism operators that are able to and want to contribute to green shoots to support TIAO's advocacy efforts, this is greatly appreciated.

We look forward to hearing from you, having more input, strengthening our industry's voices and making sure tourism is represented.
Contact us for 2022 membership by emailing us directly at

membership@tiaontario.ca
If you are a tourism operator that would like to contribute more than your membership dollars to TIAO to support our advocacy efforts, you can do so in one of two methods:
Sponsorship of an existing action - Tourism Issues Forum, Policy Speaker Series, AGM, and/or Ontario Tourism Summit

Become a

Green shoots

sponsor 🌱 - For those members that can afford to pay more than their membership, we will recognize the value of their existing membership through sponsorship (Green shoots sponsor) and use this value of their membership to continue the research and vital actions to rebuild and represent the industry's voice to government in Ontario.
How does this work if I want to become a member of TIAO?
Welcome, we are glad to extend this to the industry. We ask that you reach out to us directly at: membership@tiaontario.ca We will set up your membership. We will also extend to you the option as we do to our existing members.
Membership within TIAO for a period of one year from date of signing.

Opportunity to sponsor an existing action - Tourism Issues Forum, Policy Speaker Series, AGM, and/or Ontario Tourism Summit AND/OR become a

Green shoots

sponsor 🌱 - For those members that can afford to pay more than their membership, we will recognize the value of their existing membership through sponsorship (Green shoots sponsor) and use this value of their membership to continue the research and vital actions to rebuild and represent the industry's voice to government in Ontario.

Why Green shoots? 
Green shoots is a term used to describe signs of economic recovery or positive data during an economic downturn. The term green shoots is a reference to plant growth and recovery and has been used during down economies to describe signs of similar growth.
Welcome to the Tourism Industry Association of Ontario. 
We are your association, and we are here for you!
---
GOVERNMENT RELEASES
-----------------------------------------------------------------------------------
Ontario Invests in Innovations to Help Control the Spread of COVID-19
Economic Development, Job Creation and Trade 
The Ontario government is supporting an investment of more than $2.9 million by five local companies to strengthen manufacturing of domestic medical supplies and support the development of homegrown innovations to help control the spread of COVID-19. The province is investing more than $1.54 million through the Ontario Together Fund (OTF).
Ontario Launches New Intake to Support Economic Opportunities in Rural Ontario
Agriculture, Food and Rural Affairs 
The Ontario government is launching a new intake of the Rural Economic Development (RED) program on February 7, 2022 to help build rural Ontario by investing in projects that boost economic opportunities in rural and Indigenous communities, create jobs and strengthen the labour force.
New Ontario Clean Energy Registry Will Make Province Even More Attractive for Investment
Energy
As environmental and sustainability goals increasingly influence corporate decisions on where to invest and grow, the Ontario government is taking action and leveraging the province's world-class clean electricity grid by developing a voluntary clean energy credit (CEC) registry to boost Ontario's international competitiveness and attract jobs.
Ontario Investing in Inclusive and Accessible Communities
Seniors and Accessibility 
Ontario is investing $750,000 to help communities across the province become more inclusive and accessible for people of all ages and abilities.
Minister Steve Clark's Speech at the 2022 Rural Ontario Municipal Association Conference
Municipal Affairs and Housing 
Steve Clark, Minister of Municipal Affairs and Housing, delivered remarks to delegates during the virtual Rural Ontario Municipal Association conference.
Ontario Supports Havelock Company's Investment in Sanitizer-Grade Ethanol
Economic Development, Job Creation and Trade 
The Ontario government is supporting a more than $37 million investment by Kawartha Ethanol with $2.5 million through the Ontario Together Fund. The new investment will help the Havelock-based company expand its local production capabilities to manufacture high-grade, pure ethanol for hand sanitizers and disinfectants to help our continued fight against COVID-19.
Ontario Supporting Tourism Industry in the Northwest
Northern Development, Mines, Natural Resources and Forestry 
The Ontario government is supporting the Northwestern tourism industry and the local economy by investing over $800,000 to revitalize the Turtle Portage Marine Railway on Lake of the Woods. This important marine railway provides a shortcut for users to move their boats between Whitefish Bay and Sabaskong Bay on Lake of the Woods instead of travelling 145 km by boat around the Aulneau Peninsula.
Related:
Ontario Hosts Successful Rural Housing Roundtable
Municipal Affairs and Housing 
Premier Doug Ford and Steve Clark, Minister of Municipal Affairs and Housing, hosted the Rural Housing Roundtable with Ontario's smaller and rural municipal mayors, reeves and wardens to discuss the housing crisis and coordinate efforts to increase housing supply across the province.
Ontario Businesses To See Full Impact of 2021 Electricity Rate Reductions
Energy  
As of January 1, 2022, industrial and commercial electricity customers will benefit from the full savings introduced through the Ontario government's Comprehensive Electricity Plan, announced in Budget 2020, and first implemented in January 2021. 
Ontario Launches Northern Transportation Task Force
Transportation 
The Ontario government has created a locally-based task force in Northern Ontario that will focus on transportation needs and opportunities in the region. The Northern Task Force, made up of community-based leaders, will examine ways to make it easier for people and goods to travel, while boosting economic growth in the North.
Related:
Ontario Strengthening Rural Services for Survivors of Violence and Exploitation
Children, Community and Social Services 
The Ontario government is addressing the growing strain on services due to COVID-19 by investing $3.6 million in rural frontline agencies that support survivors of human trafficking and women who have experienced violence. 
Ontario Gives Boost to Municipal Public Transit
Transportation 
The Ontario government is providing $375.6 million to help 107 municipalities across the province operate and improve local transit. The funding is being delivered through the Gas Tax program and can be used to extend service hours, buy transit vehicles, add routes, improve accessibility or upgrade infrastructure.
Ontario Nominates New WSIB Chair and President
Labour, Training and Skills Development 
Ontario has nominated Grant Walsh as Chair of the Board of Directors for the Workplace Safety and Insurance Board (WSIB) and Jeffery Lang as President and Chief Executive Officer (CEO). 
---
INDUSTRY NEWS
-----------------------------------------------------------------------------------
Powlowski considers challenges and opportunities of 2022
Fort Frances Times 
As 2022 takes off in full swing, Thunder Bay-Rainy River MP Marcus Powlowski has several big-ticket items on his parliamentary plate that he's keeping an eye on.
Doors Open 2022 accepting in-person and virtual experience submissions
City of Toronto 
The City of Toronto is seeking applications from eligible sites interested in participating in Doors Open Toronto 2022 on May 28 & 29. This year, both virtual and in-person programming will be considered. Deadline is January 31.
Reconnect Ontario program providing support to festivals and events
The Cornwall Seeker 
The Ontario government is investing $20 million through the Reconnect Ontario program to provide support to municipalities and festival and event organizers who are creating innovative, exciting ways to help Ontarians reconnect with their communities during the COVID-19 pandemic once it is safe to do so.
Lake of the Woods boating crowd uplifted by repairs to marine railway
Northern Ontario Business 
The Ontario government is spending "over $800,000" to fix the Turtle Portage Marine Railway on the eastern half of Lake of the Woods in northwestern Ontario.
Related:
How this small city in Canada is making millionaires
Off The MRKT
The City of Peterborough is a city in Ontario that is recognized for its natural beauty as well. Tourism Ontario has been investing in this city to promote the natural beauty and history of the area to attract more tourists.
The Temiskaming Tour offers a taste of region's rich food heritage
Sudbury.com 
Communities around Lake Temiskaming have created a culinary experience that tourists will appreciate. It's called the Temiskaming Tour Route, which promotes the area's Francophone, Anglophone, and Algonquin cultures. 
Staycations Could Revitalize Canadian Tourism In 2022
Canadian Travel News
Heading into 2022, with the Omicron wave still raging and an uncertain year ahead, many Canadians are likely to adjust their travel plans and vacation at home.
Related:
2023 Brier in London, Ont. will bring '$8M-$10M in economic impact': Tourism London
CTV News
The road to economic pandemic recovery in London, Ont. received a "significant boost" Monday when Curling Canada announced the Tim Hortons Brier would return to the Forest City next year.
Businesses share resources
CBC News
In a town where tourism is crucial, businesses have struggled throughout the pandemic, but for Amanda Trafford, the business development coordinator for the town of Gananoque, it's also been a chance for the local community to come together. 
Toronto's waterfront is getting a bunch of huge free attractions
blogTO 
Waterfront Toronto has just dropped its latest plans for how it will continue with the massive redevelopment of the city's vastly underutilized shoreline, and along with a slew of additional greenspace — 25 hectares worth, to be exact — residents can look forward to multiple fun (and free) new attractions.
Niagara Parks Commission Appoints New Chair
101MoreFM 
April Jeffs replaces the late Sandie Bellows. Ontario Tourism Minister Lisa MacLeod making the announcement to appoint Jeffs, a former mayor of Wainfleet Township and current NPC board vice chair, to the position left vacant last fall with the passing of Bellows.
Related:
Hosting Scotties without fans could still be a kickstart to a future in hosting events
TB News Watch 
The Scotties Tournament of Hearts will only allow entrance to players, coaches, officials and essential operational staff/volunteers to Fort William Gardens which drastically lowered projected tourism income from travelling fans, but national coverage may make up for it.
MAT dispute resolved between Sarnia and Tourism Sarnia-Lambton
The Sarnia Observer 
Sarnia and Tourism Sarnia-Lambton have come to an agreement about how to split more than $126,000 raised via a tourism tax on short-term stays in city hotels and other lodgings.
Lights on Stratford festival extended to Jan. 30
The Stratford Beacon Herald 
The city's second annual winter festival of lights has been extended to include the final weekend in January, tourism officials announced Friday.
Kingston receives three grants from My Main Street program
The Kingstonist 
The Kingston Economic Development Corporation (Kingston EcDev) received two My Main Street Local Business Accelerator grants; one for Williamsville/Inner Harbour, and the other for Downtown Kingston.
Northern Ontario businesses struggling to capture critical snowmobile customers with COVID restrictions
CBC 
Dozens of northern Ontario restaurants would go under if snowmobilers didn't need to stop to eat, drink and warm up. So not being able to welcome them inside due to COVID restrictions during this frigid season has been a challenge.
Until March 20, 2022 McMichael Canadian Art Collection Presents: "A Like Vision": The Group of Seven at 100

Until May 8, 2022 McMichael Canadian Art Collection Presents: Margaux Williamson: Interiors

January 28, 2022 RTO9 Presents: How TIAO and CFIB Are Aligning Efforts to Assist Tourism Operators

January 31 - February 4, 2022 Madawaska Kanu Centre Giving Week

February 1, 2022 EDCO Community Activator Information Session

February 1; March 15; April 26, 2022 Enterprise Toronto Presents: Social Media for Your Business

February 3, 2022 Ontario Regiment Museum and CloudConstable Presents AVA™ Venue AI Open House at the Ontario Regiment Museum

February 9; March 9; April 13, 2022 Enterprise Toronto Presents: Legal Bootcamp - How to Start & Grow Your Business

February 16, 2022 TIAO Presents: Better Business Discovery Process: Session Two of the Webinar Series - Building Inclusive Tourism

February 25 - 27, 2022 The Outdoor Adventure Show

February 28 - March 2, 2022 Festivals & Events Ontario Presents: Energize Conference

March 9, 2022 TIAO Presents: LGBT+ Overview and Case Study: Session Three of the Webinar Series - Building Inclusive Tourism

April 5 - April 7, 2022 EDCO's 65th Annual Conference And Showcase

April 13, 2022 - TIAO Presents: Bringing DEI to DMOs: Session Four of the Webinar Series - Building Inclusive Tourism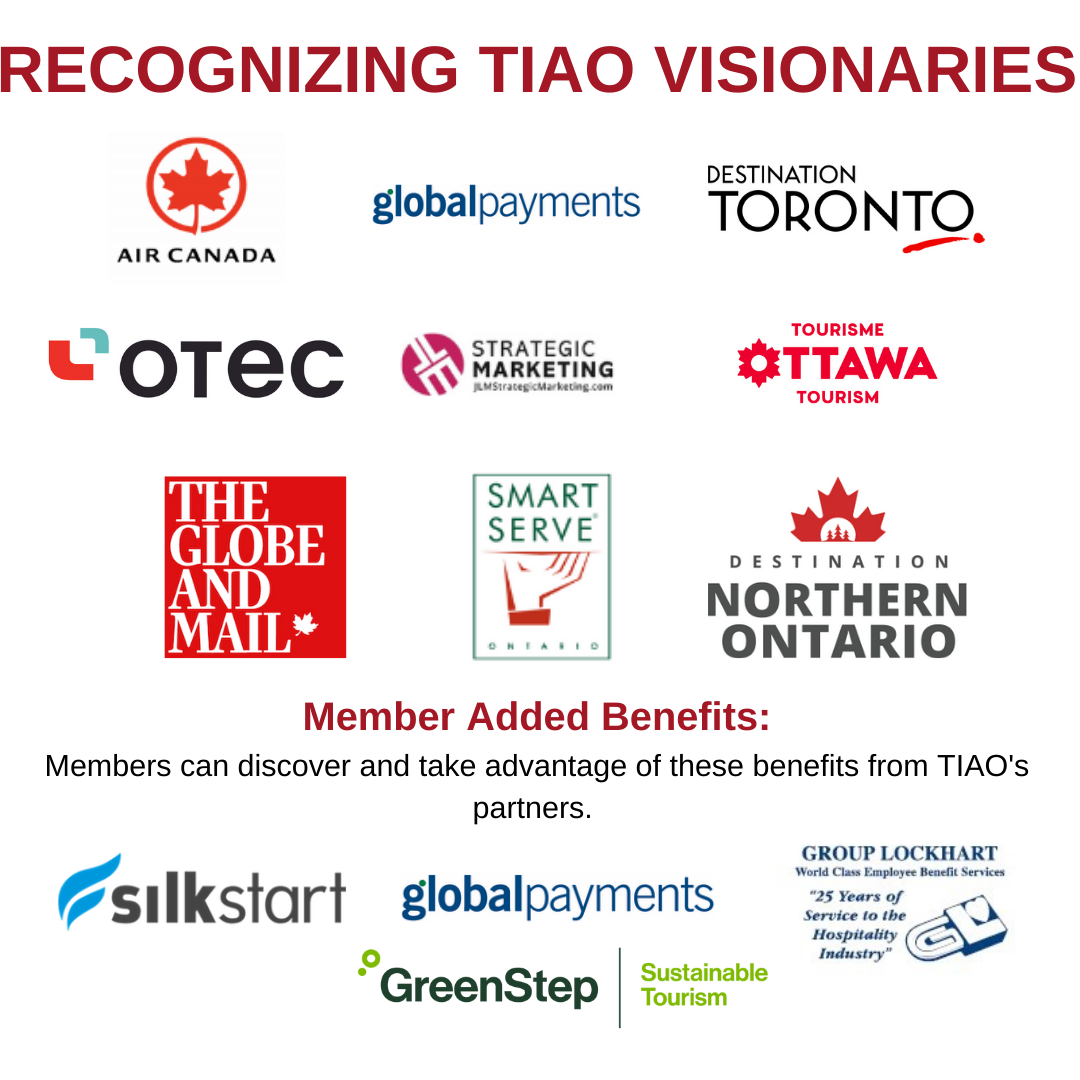 Copyright © 2021

Tourism Industry Association of Ontario

, All rights reserved.
 

This email was sent by:
Tourism Industry Association of Ontario
439 University Avenue, Suite 1400
Toronto, Ontario, M5G 1Y8

 

You have received this email because you are a member or existing contact of Tourism Industry Association of Ontario, a membership organization powered by SilkStart. update notification preferences unsubscribe from this list