Your weekly digest from TIAO, updating you on the latest industry news, advocacy issues and upcoming events.
Does this email not look right? Try viewing this email in a browser.

Follow us on our social media channels for news, industry briefs and information with a focus on validity and relevance to our industry.
---
ADVOCACY in ACTION
Over the past few weeks, we've been working hard in preparation for the 2022 conference of the Association of Municipalities Ontario (AMO), where we will be meeting with cabinet ministers and their teams to discuss pressing issues impacting the rebuild of the tourism industry. Joining us will be our tourism delegation, consisting of: Destination Northern Ontario, Indigenous Tourism Ontario, OTEC, Boating Ontario, OMCA, Camping in Ontario, Smart Serve, RTO9, Kingston Accommodation Partners, and Blue Mountain Village Association.  
Key AMO asks include: debt relief and action on commercial insurance, implementing a tourism workforce strategy, new tax incentives and partnerships to spur tourism growth, creating regional and localized solutions to the affordable housing crisis, continued transportation and infrastructure upgrades, climate change prevention and recovery supports, and long-term strategic investments to support the rebuild, growth, and resilience of our industry across tourism sectors and regions.  
We are still scheduling meetings, but we have confirmed meetings so far with: Ministry of Tourism, Culture and Sport; Ministry of Northern Development; Ministry of Natural Resources and Forestry; Ministry of Indigenous Affairs; Ministry of Transportation; Ministry of Francophone Affairs; Ministry of Colleges and Universities; Ministry of Environment, Conservation and Parks; Ministry of the Attorney General; Ministry of Infrastructure; Ministry of Energy; Ministry for Seniors and Accessibility; and the Ministry of Public and Business Service Delivery.  
We also have a meeting scheduled with Mayor Cam Guthrie, chair of the Ontario Big City Mayors (OBCM). The OBCM is comprised of mayors of Ontario cities with populations of 100,000 or more – collectively representing 70% of Ontario's population. The key agenda items for discussion: the impact of rising visible homeless and vulnerable populations in Ontario cities, their impact on the safety of frontline tourism and hospitality workers, what Ontario's big cities are doing to address the situation, and how TIAO can help advocate for the types of resources municipalities need to address a multi-pronged challenge.
AMO 2022 takes place August 14 – 17 in Ottawa. The countdown has begun.  
This week, we also made a number of TV and media appearances discussing the Ontario Staycation Tax Credit. We also talked about what's behind the delays at Toronto Pearson airport—emphasizing the impact of the labour crisis and legacy public health measures such as ArriveCAN slowing down processing times—how they're impacting the capacity of tourism businesses to reach current and future visitors, and what needs to happen to address the situation.  
As always, thank you for your continued support. And of course, if you have any questions or comments, please feel free to send me an email at jng@tiaontario.ca.




Jessica Ng
Director, Policy & Government Affairs
---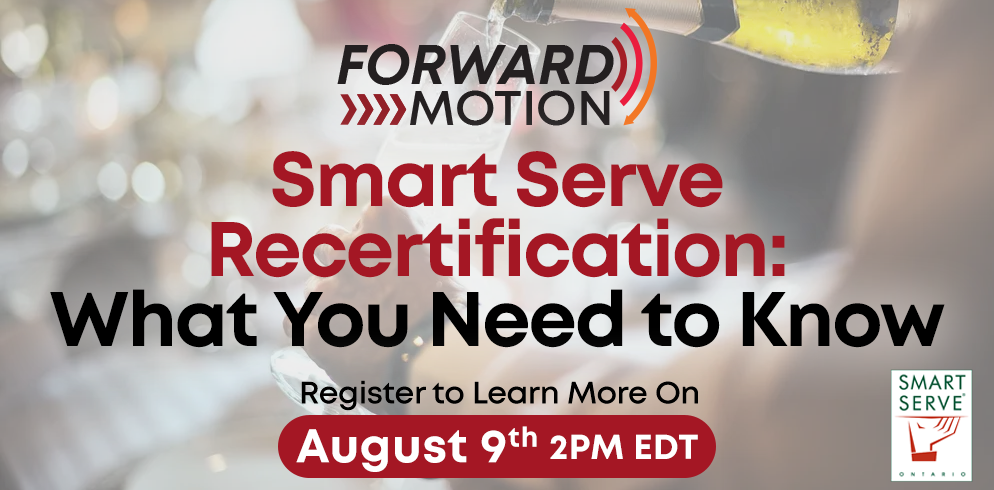 On July 1, 2022 the AGCO approved Smart Serve Recertification every 5 years. With an ever-changing landscape this will ensure that your employees and you are kept current.
Join Caitlyn Drexler, TIAO's Policy & Research Officer, and Richard Anderson, Executive Director, Smart Serve, in conversation on August 9, 2022 at 2PM.   
Due to the recent changes to the liquor framework in Ontario, all existing Smart Serve certificate holders will be impacted as of July 1, 2022. As such, TIAO is hosting a free webinar to outline some of the new regulations, highlight the new Liquor License and control Act (LLCA), and how you will be impacted by these changes. The session will also include a Q & A component where you will have an opportunity to ask any questions that you may have.
Speakers:
Richard Anderson
Executive Director, Smart Serve Ontario

Richard Anderson has been in the non-profit industry for most of his career.  Having 25 years of experience at Sheridan College and Mohawk College, he managed Student Associations with large budgets and staff.  He was the licensee for the campus pubs and oversaw the bar and restaurant operations, as well as board governance.  He started with Smart Serve Ontario in July of 2017 as the Executive Director, and has since spent time learning the industry and raising the profile in Ontario.  Richard is active and sits on the boards of Arrive Alive/Drive Sober and Burlington's Sound of Music Festival. 
Caitlyn Drexler
Policy & Research Officer, Tourism Industry Association of Ontario

Caitlyn is a public policy professional with over four years of experience working in policy research and government relations. She recently graduated with a Master's degree in Applied Politics from the Wilfrid Laurier University. She has previous experience working for several non-for-profit organizations, where she led major events and coordinated projects. She has worked with MPs on political campaigns and organizing fundraisers. Previously, she taught tutorials in Canadian politics and International politics at Wilfrid Laurier University, where she was responsible for researching and advising students.
Click here to learn more and register for the event!
---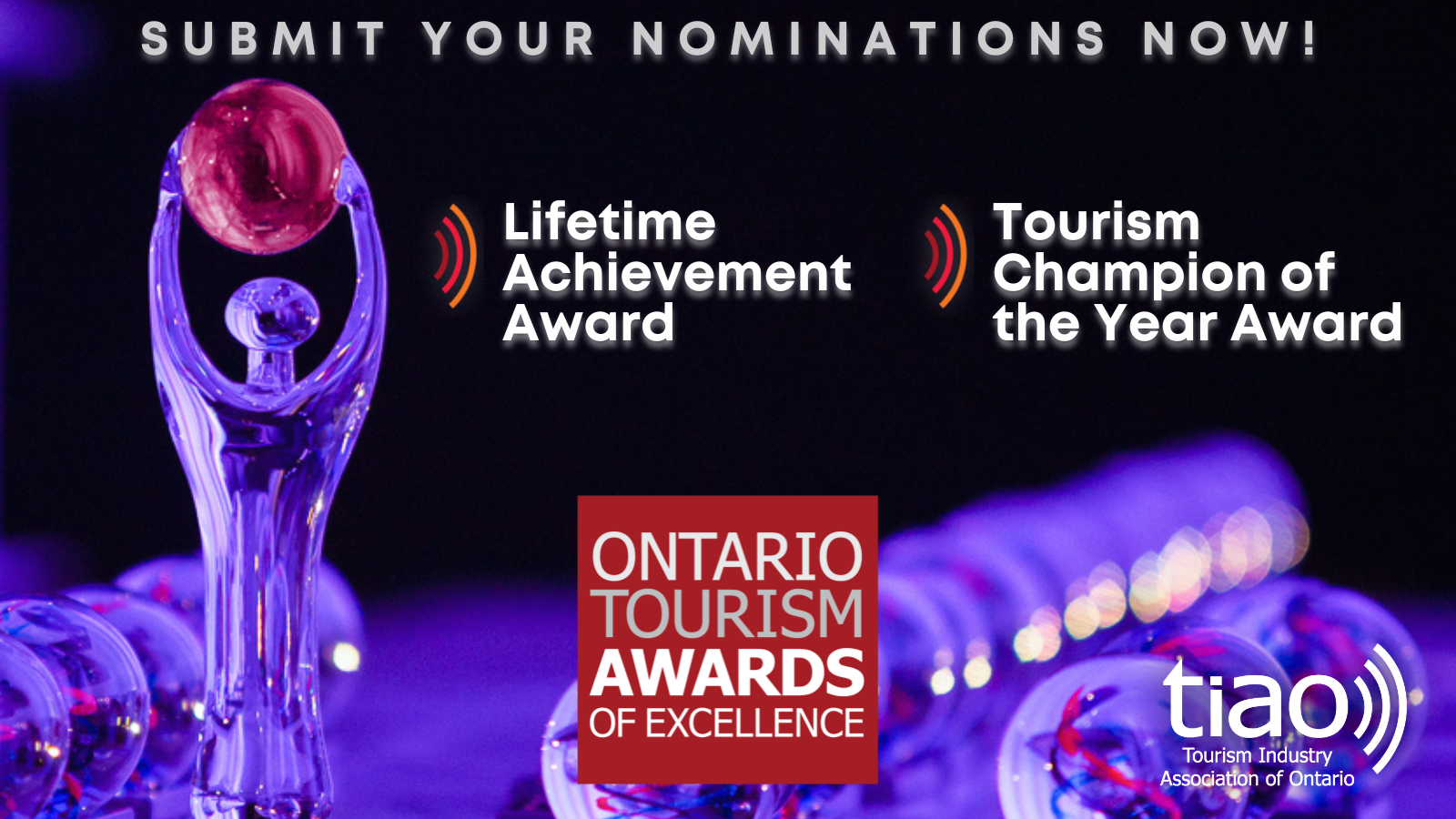 NOMINATIONS FOR 2022 ONTARIO TOURISM AWARDS OF EXCELLENCE ARE OPEN!
Nominations for the 2022 Ontario Tourism Awards of Excellence are open! Join us in recognizing our tourism industry partners exhibiting excellence.
Presented by the Tourism Industry Association of Ontario, The Ontario Tourism Awards of Excellence celebrate success and recognize those who have made outstanding contributions to Ontario's tourism industry.
The Tourism Champion of the Year Award is given to an individual who embodies the spirit of tourism in Ontario. This person should be directly involved with the industry (as an employee, business owner, volunteer, advocate, etc.) and be able to give evidence of their contributions.
The Lifetime Achievement Award is presented to an individual that has made significant contributions to the development and promotion of Ontario's tourism industry, and established a visible, long-term record of accomplishment that merits special attention.
Winners will be announced in person at the 2022 Ontario Tourism Summit.
Click here to get started with the nomination process.
---
TICKETS ARE ON SALE
FOR ONTARIO TOURISM SUMMIT 2022!

Gather with industry colleagues and tourism leaders for two days at Deerhurst Resort to network, gain new insights, explore trending topics and celebrate excellence at the 2022 Ontario Tourism Summit.
Click here to purchase your tickets for OTS22!
---
NEWS
---
COVID-19 IMPACT
---
---
LABOUR & WORKFORCE DEVELOPMENT
Centre supporting Black entrepreneurs opens in Sudbury
Northern Ontario Business

---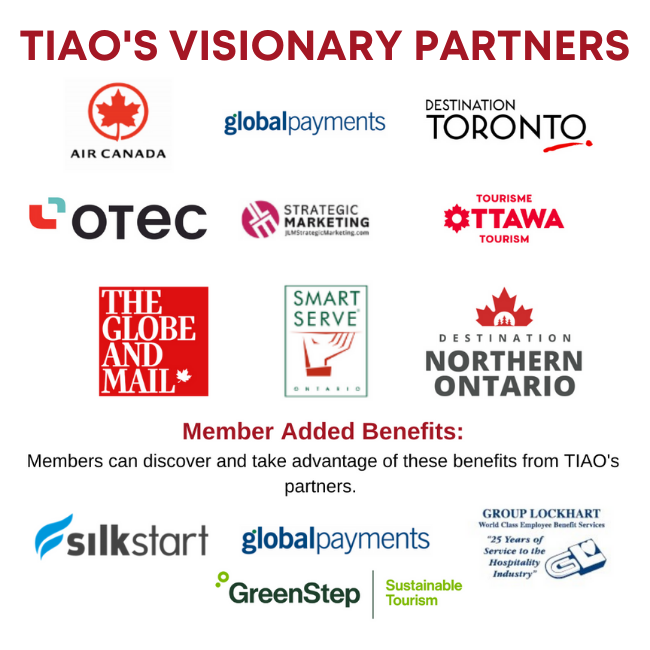 Copyright © 2022

Tourism Industry Association of Ontario

, All rights reserved.
 

This email was sent by:
Tourism Industry Association of Ontario
207 Queens Quay West, Suite 405, Toronto, ON M5J 1A7